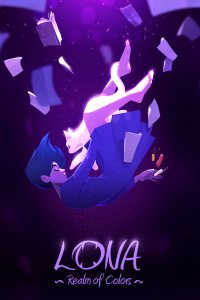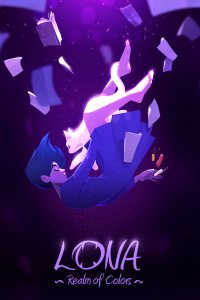 Lona: Realm of Colors
An artistic point-and-click adventure in which we are imprisoned in the paintings of a young painter struggling with life's problems. The title is distinguished by its unique graphic design, for which the artist Taraneh Karimi is responsible.
Adventure | point-and-click | crowdfunding | indie games | experimental/art | cats
Lona: Realm of Colors is a two-dimensional point-and-click adventure game developed by Studio SpaceFox.
Story
The game tells the story of the title Lona, a painter who tries to deal with her problems by transferring them onto canvas. Unfortunately, such a solution turns out to have unpleasant consequences - Lona slowly loses contact with the real world, eventually being imprisoned in her works. Each painting has two sides - a chaotic one, supervised by a cat called Mrs. Schmidt, and a dark one, represented by a raven, Mr. Ruppel. The players' task is to restore balance in each of the fifteen images so that the woman can return to real life.
Mechanics
Lona: Realm of Colors is a simple point-and-click adventure game, which follows the same rules as other titles of the genre. This means that the game is about finding and using items. However, we don't have a window of equipment in which we can store the items and combine them with each other or even a HUD. Developers simply got rid of everything that would spoil the atmosphere of the game. As a result, the gameplay is not very complicated and consists mainly of moving items from the colorful, chaotic version of the world to the darker one and vice versa. In this way, we trigger new events, and sometimes we completely change the scenery, pushing the plot forward.
Technical aspects
Lona: Realm of Colors is distinguished by its unique visuals. Due to the fact that the action takes place in Lona's paintings, the painting observed on the screen is also a small work of art created by artist Taraneh Karimi. Interestingly, he is also responsible for the vocal side of the soundtrack.
Last updated on 31 July 2023
Game mode: single player
Age restrictions Lona: Realm of Colors: Good for all ages.
Lona: Realm of Colors System requirements
Minimum:
Intel Core i3
4 GB RAM
graphic card 2 GB GeForce GTX 960 or better
2 GB HDD
Windows 10
Recommended:
Intel Core i5 / AMD Ryzen 5
16 GB RAM
graphic card 8 GB GeForce GTX 1070 or better
2 GB HDD
Windows 10