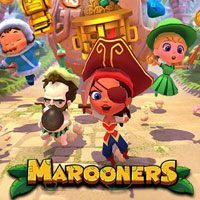 Marooners
An arcade party game where up to six players can play with a variety of mini-games. Depending on the selected mode, the game moves between mini-games after the end of one of them or randomly every several seconds.
Party | platform | 3D platformers | family | minigames | co-op | splitscreen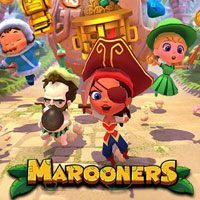 Game mode: single / multiplayer
Multiplayer mode: Internet / common screen, players: 1-6
Marooners is an arcade social game consisting of a set of mini-games, between which we switch during the game. Up to six players can take part in the game, including AI-controlled bots.
Marooners was developed by the Dutch studio M2H, which has worked on the FPS Verdun and the online shooter Tannenberg.
Mechanics
Before starting the game, each participant chooses a character, weapon and color. The available heroes are a merry bunch consisting of a bearded viking, an Egyptian princess, a caveman or a diver. In the arsenal we will find tridents, axes and maces, but also, for example, umbrellas. New characters and weapons can be unlocked during the game.
Depending on the selected mode (Party or Arena), the primary task of the players is to collect jewels or fight other participants. Coins and gems, as well as packs providing additional powers (e.g. increased speed, improved attack) are scattered on the maps.
The exact mechanics of the game, however, vary depending on the mini-game we are currently playing. Levels can be completed one by one, but we can also play in a mode, in which participants are moved between the minigames literally every few - dozen or so seconds. Drawing can send us, for example, to the arena, where both valuable objects and deadly boulders fall from the sky, through ice islands, from which we can easily fall or be dropped, to a racetrack, where running characters are threatened by giant balls, or to a two-dimensional level, vividly reminiscent of the iconic Boulder Dash, where we can destroy blocks that make up the board to explore a maze full of treasure.
Play modes
Marooners includes single player mode and multiplayer mode for up to six players. In a single multiplayer session there may be participants who play locally and connect via the Internet. Free spaces can be filled with boots controlled by artificial intelligence. The game also offers a Spectator mode.
Technical aspects
Marooners is powered by the Unity engine. The game features simple and colorful visuals, and the characters of are heavily exaggerated. When participating in minigames, we have the opportunity to visit locations with different graphic styles: there are basements with lava rivers, tropical boards with ruins of ancient temples, as well as arctic islands surrounded by icebergs.
Similar games:
PEGI Rating
System requirements
Minimum:
Intel Core 2 Duo 2.0 GHz
2 GB RAM
graphic card Intel HD or better
1 GB HDD
Windows XP