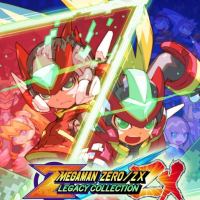 Mega Man Zero/ZX Legacy Collection
Mega Man Zero/ZX Legacy Collection is a compilation of refreshed versions of platform action games from Mega Man Zero and Mega Man ZX, developed by Capcom. The whole was enriched with facilities for new players, a gallery of graphics and a music player.
Action | science fiction | platform | 2D | package | reeditions/remasters/remakes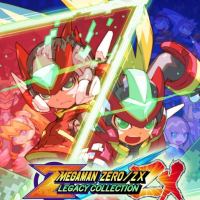 Game mode: single / multiplayer
Multiplayer mode: hotseat, players: 1-2
Mega Man Zero/ZX Legacy Collection is a compilation consisting of refreshed versions of four parts of the Mega Man Zero series, which debuted on the GameBoy Advance console, as well as two parts of the Mega Man ZX series (Mega Man ZX and Mega Man ZX Advent), known from the Nintendo DS platform. The set was developed and published by the Capcom company, which takes care of the brand.
Plot
Games under the Mega Man Zero sign are transferring us to a metropolis called Neo Arcadia. The main protagonist of these productions is the title Zero, a warrior who hits the very middle of the war between people and robots known as Reploids. Although the fate of Neo Arcadia depends on the outcome of this battle, over time it turns out that the real threat to the city is the powerful and mysterious Dark Elven.
Action of games forming a compilation takes place two hundred years after the events of the game Mega Man Zero 4 and the story told in them revolves around biometals (substances that give people powers to face various dangers) and hostile Mavericks. This time the creators allow us to choose the character we want to play; in Mega Man ZX they are Vent and Aile, and in Mega Man ZX Advent - Grey and Ash.
Mechanics
In the games forming the Mega Man Zero/ZX Legacy Collection we observe the action from the side. In each of them we go right, jump on platforms, avoid numerous traps and overcome omnipresent obstacles. In addition, an important role is played by fighting opponents (at the forefront of powerful bosses), which we eliminate using an extensive arsenal. In Mega Manach Zero we can additionally upgrade guns, and the hero is accompanied by the "Cybernetic Elves", which provide him with various combat skills. In Mega Man ZX we get the above-mentioned biometals, which enable the heroes to transform them into their more powerful models. Moreover, between missions we can freely travel the world and talk to its inhabitants, and the tasks pushing the plot forward are accompanied by side threads.
Game modes
Mega Man Zero/ZX Legacy Collection was enriched with a new ranking mode Z Chaser. Players face a variety of challenges in this game, and the winner is a person who proves to be faster. In addition, for newcomers, a simple scenario mode has been developed that is much easier than the standard difficulty level, and a write-assistance system has been developed that allows for rebirth after death at the last checkpoint without losing life.
Technical aspects
The Mega Man Zero/ZX Legacy Collection games stand out due to their improved graphics. However, a special filter has been implemented in them, which activation allows to see them in the original version. In addition, the whole was enriched with a specially prepared gallery and music player.
Similar games:
PEGI Rating
System requirements
PC / Windows
Recommended: Intel Core i5-3570 3.4 GHz, 4 GB RAM, graphic card 2 GB GeForce GTX 760 or better, 7 GB HDD, Windows 7/8/8.1/10 64-bit
Minimum: Intel Core i3-550 3.2 GHz, 2 GB RAM, graphic card 2 GB GeForce GTX 660 / Radeon HD 7850 or better, 6 GB HDD, Windows 7 64-bit