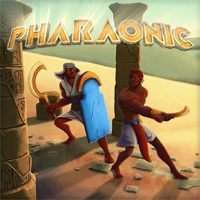 Pharaonic is side-scrolling action-RPG game for PC, PS4 and XONE set in the ancient Egypt. It has been created by an independent Spanish studio - Mlikstone, which is responsible for games like Ziggurat or Little Racers and White Noise series.
Plot
We play as a brave adventurer (him or her), who tries to discover legendary secret of Ahmosis I, the so called Red Pharaoh. This won't be an easy task, with death waiting at every corner of this ancient land – only the greatest and most experienced warriors can hope to oppose it. We will face soldiers of pharaoh's army and uncountable traps and deadly, mythical creatures. Fortunately, we can count on help from oppressed inhabitants of this land and a mysterious society of Daughters of Ishtar.
Gameplay
Game mechanics of Pharaonic for PC, PS4 and XONE takes solutions of modern action-RPG to a somewhat old-school setting of the classic side-scrolling arcade games. The world is presented in 2.5D perspective, so we visit fully three-dimensional locations, but can only move on pre-established paths. Basic gameplay is a Dark Souls-inspired, complex and challenging fighting system, adapted to slightly different realities of dynamic, side-scrolling slasher. This means we use different fighting style and weapon when facing basic enemies and bosses, blocking and parrying enemies' attacks and waiting for proper moment to deal a critical hit.
Other elements of gameplay have been borrowed from typical RPG games. We talk with met NPCs to learn what really occurred in kingdom and discover tens of alternative paths, leading either to great treasures or deadly traps. Complex character development and modification system is also present. There are hundreds of equipment parts for our hero, both affecting our statistics and looks. As we progress through the game, we learn new spells and get new divine powers that make further confrontations with enemies easier.
Technical aspects
Pharaonic for PC, PS4 and XONE offers an eye-catching, entirely three-dimensional graphics set in slightly cartoonish environments that can be destroyed during fights.
Age Rating
age requirements: everyone
System requirements
PC / Windows
Recommended: Intel Quad Core, 4 GB RAM, graphic card 1 GB GeForce 460 or better, 1 GB HDD, Windows 7 64-bit
Minimum: Intel Dual Core, 2 GB RAM, 1 GB HDD, Windows XP SP3