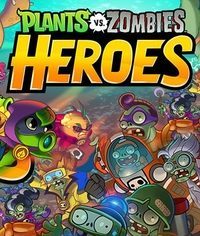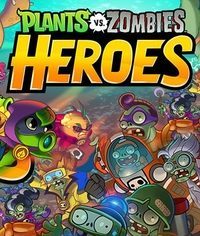 Plants vs. Zombies Heroes
A spin off to the popular Plants vs. Zombies series in a form of a mobile card game with tower defense elements. The production introduces themes inspired by superhero stories.
Developed by PopCap Games, Plants vs. Zombies Heroes for AND and iOS is a mobile card game utilising a free-to-play model with microtransactions.
Mechanics
Plants vs. Zombies Heroes published on AND and iOS is a card game in which you conduct 1vs.1 battles with the use of personally-composed deck of cards. Multiplayer is the core of the production, but the game also features an extensive single player campaign, which gives a chance of getting used to the game's rules.
The title enriches the series' universe with threads inspired by Super Hero stories. Superheroes side with both fractions – zombies, as well as vegetables who are protecting their homes. Among them you can find The Green Shadow, who accurately shoots down the targets with pea-bullets and Zombie Impling, who can clone itself.
Superheroes are exceptionally powerful warriors, but they are not the only ones fighting. Your army consists of regular units from previous instalments. You collect hundreds of characters, each represented by a card. Before a battle, you assemble a team by composing a deck of cards with only one superhero, a few regular units, and a bundle of superpower cards, serving as special skills.
Gameplay boils down to battles between the two sides, which take place on levels divided into a few vertical paths, in a style that resembles a typical tower defence game. During the course of the game it is necessary to activate cards, which summons units onto paths or makes them use their superpowers. The game ends if one side loses all health points.
Game mode: single / multiplayer Multiplayer mode: Internet
App size:
User score: 7 / 10 based on 26 votes.
Pre-release expectations: 9.2 / 10 based on 15 votes.
Age restrictions Plants vs. Zombies Heroes: 12+