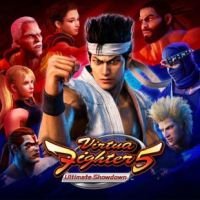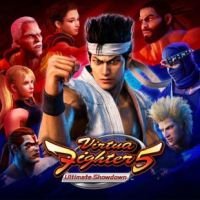 Virtua Fighter 5: Ultimate Showdown
PS4
The second remaster of Virtua Fighter 5, featuring all of the new features of Virtua Fighter 5: Ultimate Showdown as well as a number of improvements. Virtua Fighter 5: Ultimate Showdown also uses the new Dragon Engine technology.
Fighting | for 2 people | reeditions/remasters/remakes | 2.5 D | splitscreen
Virtua Fighter 5: Ultimate Showdown

Release Date PS4

01June2021
developer: Ryu ga Gotoku Studio publisher: SEGA Official website

game language: English
Virtua Fighter 5: Ultimate Showdown is the second remastered version of Virtua Fighter 5, the fifth instalment of the popular fighting game series, which started in 1993. Its foundation was Virtua Fighter 5: Final Showdown (also a remaster). However, this game stands out due to a number of previously unavailable features and a new graphics engine - the Dragon Engine. The game is the result of cooperation between SEGA's Ryu Ga Gotoku Studio and SEGA AM2.
Plot
In Virtua Fighter 5: Ultimate Showdown we take part in the 5th world fighting tournament. The event, which attracted the best fighters from around the globe, was funded by the J6 organisation. However, the organisation is not particularly clean in its intentions - it wants to find whoever dared to free Vanessa, who it has kidnapped, and to test its new human combat machine, the V-Dural. It's up to us to thwart her plans for world domination and thus win the tournament.
Mechanics
Virtua Fighter 5: Ultimate Showdown features 19 fighters varying in gender, appearance and fighting style. These include fighters from previous instalments as well as heroes introduced in Virtua Fighter 5 (Eileen and El Blaze) and Virtua Fighter 5: Final Showdown (Jean Kujo).
Heroes engage in fierce duels across a variety of arenas set in picturesque landscapes including snowy mountain peaks, a park at sunset and a Far Eastern temple. The stages aren't just a background for fighting; some elements are interactive, and by breaking through fences or walls you gain access to other parts of the arena.
The combat system has been designed in such a way that both players with no experience in fighting game and those who have mastered the previous instalments of the series and other games of this type can enjoy the game.
Game modes
Virtua Fighter 5: Ultimate Showdown offers a wide range of game modes. Among others, ank match, Arcade mode and Training mode are waiting for checking. Besides, in the game we can find multiplayer Versus mode, where we can face other players locally or over the Internet. A new feature is the ability to create private "rooms" for up to sixteen people and take part in League Matches and Tournament Matches, as well as watch other players fight.
Technical aspects
Virtua Fighter 5: Ultimate Showdown uses Dragon Engine technology, developed for Yakuza 6: The Song of Life and Yakuza Kiwami 2, and later used in such games as Yakuza: Like a Dragon, Judgment and Lost Judgment. The change of engine resulted in an improvement in the graphics quality in comparison not only to the original Virtua Fighter 5, but also to Virtua Fighter 5: Final Showdown. These include refreshed character models, arenas and cutscenes. In addition, the soundtrack accompanying gameplay has been expanded and improved.
Game mode: single / multiplayer Multiplayer mode: Internet Player counter: 1-2
PEGI rating Virtua Fighter 5: Ultimate Showdown