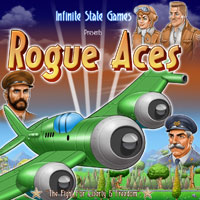 Rogue Aces is a unique mix of a roguelike and a dynamic shoot'em-up developed by an independent State Games. The game is distributed by Curve Digital and was released for a number of platforms.
Plot
In Rouge Aces, the player assumes control of a fighter plane from World War II era with a mission to defeat the incoming enemy units, land, air, and naval alike.
Mechanics
Rogue Aces takes place in a procedurally-generated two-dimensional world. The campaign consists of a hundred missions in which our task is to locate and destroy the enemy base. The task is not that simple, as the opponent constantly throws his own forces at us, including plane squadrons, paratroopers, land forces, aircraft carriers, and destroyers. Moreover, the player has to watch out for the fuel limit, as running out of fuel in a hostile territory can end tragically for our pilot.
Fortunately, the hero has access to abilities that can make other pilots jealous (e.g. he can take over enemy machines in air), and his plane can be modified in order to increase its battle potential; the enemies are dealt with using machine guns, rockets, or bombs used to destroy the objects found on the surface.
Game Modes
Aside from the aforementioned campaign, Rouge Aces contains a number of other gameplay modes. First is a more difficult variant of the campaign called Veteran Campaign, during which the player does not receive any tips. The next one is Frontline Campaign that gives us a time limit for completing objectives that are currently at hand. Rogue Ace enables us to engage in dogfights without having to complete mission objectives or upgrade your aircraft; this mode is designed strictly to rack as many points as possible. The list is concluded with Bomber Defence and Survival where our goal is to stay alive as long as possible while fighting against incoming waves of opponents.
Technical Aspects
Rouge Aces offers two-dimensional visuals maintaining a characteristic cartoon design that is reminiscent of the classics from Amiga computers. The game sports a characteristic feature – the voiceovers for the main hero has been performed by Marc Silk – a voice actor known from his parts as Johnny Bravo, Scooby-doo, and Shaggy.
PEGI Rating