Undertale Video Game Series
Video Games Encyclopedia by Gamepressure.com

Deltarune: Chapter 2
RPG 17 September 2021
Deltarune: Chapter 2 is a continuation of the original RPG, which, although it seems to be modeled on the classics of the genre from the eight-bit era, turns many characteristic solutions upside down. Game was developed by the author of the original, Toby Fox.

Deltarune: Chapter 1
RPG 31 October 2018
An unusual two-dimensional RPG by Toby Fox, referring to the iconic Undertale. In Deltarune, we find ourselves in a new but similar world and face the challenges of the Dark Land, fighting in turn-based battles or disarming enemies in unconventional ways.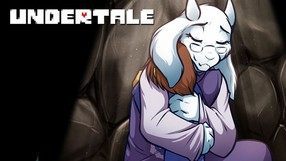 Undertale
RPG 15 September 2015
An old-school RPG from the independent developer Toby Fox, referencing the Earthbound series. Undertale's story takes place in a world that was witness to a lengthy, cruel war between humans and monsters after a long period of coexistence between both races. It ended with humans driving the monsters underground. Many years later, somewhere in the vicinity of the now-legendary mount Ebott, a little girl looking for shelter from the rain finds a cave and in it a mysterious hole, through which she falls. We play as this girl and explore the underground world, facing various monsters and interacting with various characters. The game's most characteristic feature is the innovative battle system – we can engage in direct combat in the form of arcade minigames or avoid more difficult fights through talking and complimenting.