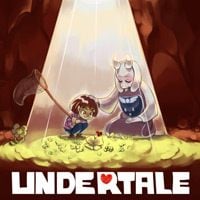 Undertale
An old-school RPG from the independent developer Toby Fox, referencing the Earthbound series. Undertale's story takes place in a world that was witness to a lengthy, cruel war between humans and monsters after a long period of coexistence between both races.
RPG | fantasy | 2D | arcade elements | crowdfunding | indie games | experimental/art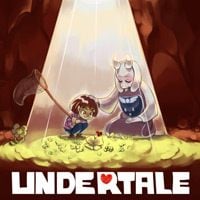 Undertale for PC, PS4 and etc. is a modern retro-RPG that brings you back to the era of 8-bit computing. Designed by Toby Fox and funded by an incredibly successful Kickstarter campaign, the game contains numerous references to the famous Earthbound series (known as Mother in Japan) created by Nintendo.
Story
A long time ago, two races ruled the Earth in harmony: humans and monsters. Unfortunately, a conflict that arose ultimately led to a long and cruel war. The humans won and drove the monsters underground with a powerful spell. Many years later, a girl, ignorant of the old legends, sets out on a journey to the Ebott mountain, from which, according to those legends, no one has ever returned. Looking for a shelter from the imminent rain, she ends up entering a cavern, where she discovers a mysterious, and obviously very deep, hole. Enthralled by her intriguing find, she leans over and falls into the hole. This is how the story of Undertale begins.
Gameplay
The gameplay does not deviate much from a typical RPG. We explore the world, interact with the characters we meet, and gain experience points. What makes Undertale for PC, PS4 and etc. stand out is the interesting story, intriguing puzzles, and its innovative combat system. Each time we face an enemy, we are given several options – we can either engage in direct combat, resolved via an arcade mini-game, or choose to influence his aggressive attitude with a compliment, for example. The latter does not yield us any experience, but it does allow us to avoid some of the more difficult encounters.
Technology
The visuals are very plain with a good dose of old-school, using a limited color palette that resembles the one employed on the 8-bit Atari or Commodore 64 computers, although in this case it is an intentional artistic choice. Another thing worthy of note is the soundtrack, composed by Toby Fox himself.
Similar games:
Age Rating
age requirements: everyone