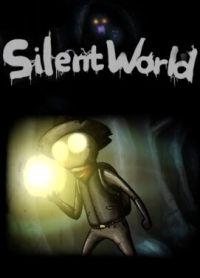 Silent World is a two-dimensional adventure game in the convention of postapocalyptic horror with elements of stealth game. This is the work of the Korean GniFrix studio, published by the CFK company. The project started as a mobile production in 2017, but the developers decided to resign from the Android version.
Plot
The hero of Silent World is a lonely wanderer who tries to survive in the world after a nuclear war. It's not an easy task: monstrous mutants lurk in the dark, and this is just one of many obstacles the hero will encounter on his way.
Mechanics
Like the classic 2D games, in Silent World we observe the action from the side, with the camera moving mainly from side to side ( side-scroll perspective). Our task is to reach the end of the each level. On the way we have to watch out for monsters, traps and other threats. However, we should be careful, because our character is almost completely defenseless, and his agility is not as good as the typical platformer heroes. So we have no chance to defeat our enemies in a direct fight or to escape quickly, forcing us to avoid enemies like in stealth games. It is necessary to use elements of the environment (boxes, levers, etc.), often part of puzzles. As a last resort, we can hide in the hat, which gives us temporary safety. On the boards we also find matches, which are the only (though modest) source of light in the hostile Silent World. The game can be associated with PlayDead studio games: Limbo and Inside, albeit with a slower pace of play.
Technical aspects
Silent World uses a two-dimensional graphic design. Although the graphics have been maintained in a slightly cartoon-like style, dark colours dominate, emphasizing the postapocalyptic nature of the game. The atmosphere is also built up by a minimalist soundtrack, occasionally enriched by environmental sounds.
System requirements
PC / Windows
Recommended: Intel Core i5-6600 3.3 GHz / AMD FX-8350 4.0 GHz, 8 GB RAM, graphic card 2 GB GeForce GTX 960 / Radeon HD 7970 or better, 2 GB HDD, Windows 10
Minimum: Intel Core i5-750 2.6 GHz / AMD Phenom II X4 955 3.2 GHz, 4 GB RAM, graphic card 1 GB GeForce GTX 460 / Radeon HD 5850 or better, 2 GB HDD, Windows 7(SP1)/8/8.1