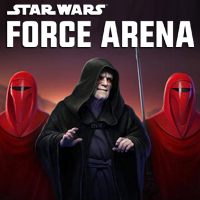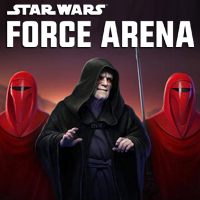 Star Wars: Force Arena
An online strategy game for mobile devices, developed by Netmarble, set in the Star Wars universe. Star Wars: Force Arena doesn't have a coherent plot, instead focusing on PvP battles. You play as two characters known from the main movie saga and the extended universe.
Strategy | science fiction | MOBA | RTS | play for free | Star Wars
Star Wars: Force Arena for AND and iOS is a PvP fighting game. It utilizes the free-to-play model with microtransactions. The game was developed by Korean studio Netmarble, known for e.g. Marvel Future Fight.
Mechanics
As the title suggests, Star Wars: Force Arena is set in the Star Wars universe. The game does not feature a plot and instead focuses on multiplayer battles. The only thing you can do on your own is to learn the basics of fighting in the tutorial.
It is a fighting real-time strategy game with MOBA elements. You lead a team of two characters known from the original movie saga or the extended universe. There are over sixty characters available, including Luke Skywalker, Darth Vader, Princess Leia, Han Solo, Emperor Palpatine or Ezra Bridger. Each one of them has unique abilities and skills.
You can fight one-on-one or two-on-two with a friend. The battles take place on small 3D arenas. Each map features bases located on its opposite ends, and to win you have to destroy your opponent's one. You can fully control each of your characters. However, you can also summon supporting units, which are controlled by the AI. Such units materialize only on your side of the map.
At first, only a few characters are available, but you unlock the others as the game progresses and develop their abilities on individual skill trees, which allows you to match them to your preferred playstyle.
Game mode: multiplayer
App size:
Age restrictions Star Wars: Force Arena: 12+