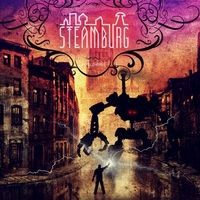 Steamburg is a steampunk adventure point-and-click with logical and arcade elements available on AND, PC and iOS platforms. The game is a continuation of the positively acclaimed and award-winning Steampunker production. This is Telehorse studio's second game. Unlike its fully paid predecessor, Steamburg is distributed as a freemium application.
Plot
The plot of the game continues the motifs started in Steampunker and is set in the same universe, although somewhat narrowed down to the titular town of Steamburg . We play as Vincent, who fights against the cosmic robots attacking the city, equipped with extremely dangerous flame throwers. Fortunately, this time our protagonist doesn't have to only rely on his own wisdom, because he has electric bombs and shooting towers at his disposal.
Mechanics
The mechanics of this game clearly differs from the previous part, mainly due to the action being presented from an isometric perspective. The character's way of acting has also changed, and the game itself focuses on logical elements rather than on the plot. The game has been divided into four stages with eight levels each where every level is a kind of a separate puzzle. Our protagonist's task is to move around the streets of the city and find objects necessary for the development of the plot. The whole difficulty is that the hero is followed by robots - we have to deal with them by using electric bombs mentioned above. These bombs can't destroy a robot, but they can immobilize it for a while, activate a nearby shooting tower, or activate a mechanism that allows Vincent to get to another location. As the game progresses, you will come across more and more difficult puzzles and new obstacles, including flying robots.
Technical aspects
Steamburg graphics have been maintained in an atmospheric, steampunk style. Apart from showing the action from a completely different perspective, the main difference is the fact that the graphics of the game are now three-dimensional. The game is again accompanied by a soundtrack performed by Silver Rocket - a musical project of Mariusz Szypura himself who, over the years, has cooperated with Artur Rojek, Tomek Makowiecki, Kasia Nosowska, Ania D¹browska and Monika Brodka.
Age Rating
age requirements: 12+
System requirements
Apple iOS
Android OS
PC / Windows
Recommended: Intel Core i5 3.0 GHz, 4 GB RAM, graphic card 1 GB GeForce GT 640 or better, 3 GB HDD, Windows Vista/7/8/10 64-bit
Minimum: Intel Core i3 1.7 GHz, 4 GB RAM, graphic card 512 MB GeForce 9600 GT or better, 3 GB HDD, Windows XP SP2