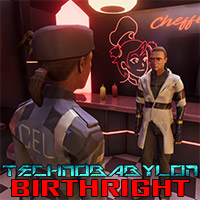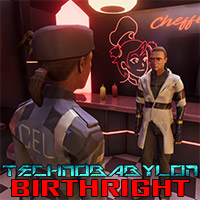 Technobabylon: Birthright
PC
Technobabylon: Birthright is a cyberpunk adventure with a point-n-click interface. Unlike the previous installment of the cycle, the continuation offers full 3D graphics, but the gameplay is still focused on exploring and solving puzzles.
Adventure | cyberpunk | science fiction | point-and-click | indie games
Technobabylon: Birthright

Release Date PC

2022
developer: Technocrat Games publisher: Wadjet Eye Games

game language: English
Technobabylon: Birthright is a cyberpunk adventure. This is the continuation of Technobabylon from 2015. Both projects were developed by the Technocrat Games studio and the production was supported by the Wadjet Eye Games team.
Plot
The action takes place in the future, in a futuristic city named Newton, that is managed by an advanced artificial intelligence known as Control. The game tells the story of a few inhabitants of this metropolis. Each character has its own problems and at first they seem to be unrelated. As the plot develops, all threads get closer to each other, and the characters' fates begin to intertwine, slowly revealing a grander intrigue.
Mechanics
In terms of gameplay mechanisms, Technobabylon: Birthright remains true to the solutions known from the first part of the cycle. What we get is a traditional adventure with a point-n-click interface, in which the game revolves around exploring numerous locations, conducting conversations, collecting objects and solving puzzles.
The game is to some extent non-linear. Some of the problems can be solved in several ways, and our choices influence how the entire story ends.
Technical aspects
The biggest difference compared to the first part is the visual setting. Instead of two-dimensional graphics in a retro style with large pixels we get fully three-dimensional graphics.
Despite the use of 3D, Technobabylon: Birthright managed to preserve the climate of the original. The main artist responsible for the graphics is Ben Chandler, who played the same role in the production of the first part, as well as in the Shardlight, Unavowed and Blackwell games.
Game mode: single player
Expectations: 6.3 / 10 based on 6 votes.
Age restrictions Technobabylon: Birthright: 16+