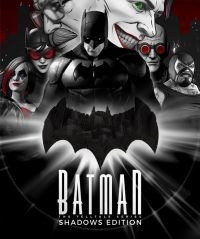 Telltale Batman Shadows Edition is a package containing two installments of the Batman: The Telltale Series adventure cycle, as well as two DLCs entitled Shadows Mode which introduce a new color scheme in each of them in the style of noir. LCG Entertainment, a team consisting of employees of the former Telltale Games, is behind the development of this position.
Plot
Telltale Batman Shadows Edition is made up of two games, Batman: The Telltale Series and Batman: The Telltale Series - The Enemy Within. Each of these titles consists of five episodes, and their plot is not an adaptation of any of the films or comic books about Batman. Instead, we get a vision of developers who present the city of Gotham in their own way and interpret both the main character and other characters from the universe.
In Batman: The Telltale Series, players can follow Batman at an early stage in their careers as Bruce Wayne impersonates him as he tries to reconcile his private life with his mission to fight the villains in Gotham City. In The Telltale Series - The Enemy Within, which presents the future of protagonist, we can see with our own eyes the Joker's "birth" and see how Bruce Wayne, who leads a double life, becomes more and more dark.
Mechanics
The gameplay in the games making up the Telltale Batman Shadows Edition does not differ from the pattern, to which we have been accustomed for years by the Telltale Games studio. Although we are dealing with an adventure game, we do not solve puzzles while playing. Instead, we observe the development of the plot and conduct numerous conversations, as well as making decisions (often morally ambiguous) affecting the further development of the story. The game also included action scenes, which were realized in the form of QTE sequences.
Technical aspects
The games that make up the Telltale Batman Shadows Edition compilation are complemented by DLC Shadows Mode, which introduce higher quality textures into each of them and bring a new colored noir style graphics. The whole was kept in almost monochromatic colours, although few colour accents were preserved. It is worth noting that the owners of the original versions of the games can update their visual layer by purchasing the DLC itself.
Age Rating
age requirements: 18+