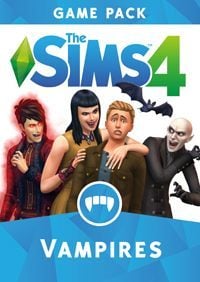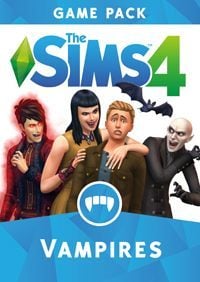 The Sims 4: Vampires
The seventh expansion for The Sims 4, developed by Electronic Arts. This time the player can turn their Sims into vampires – after the transformation your protégés gain supernatural powers, such as the ability to assume the form of a bat or become a cloud of mist.
This is The Sims 4 expansion pack.
Simulation | Economic | sandbox | life Simulator | vampires
The Sims 4: Vampires is another large expansion to The Sims 4, a game that originally launched in 2014 on PC. The add-on only requires the base game to run. As always, it was developed by Electronic Arts.
Mechanics
The Sims 4: Vampires introduces new supernatural elements into the lives of your Sims. The main feature of the add-on are, obviously, vampires. From now on, your protégés can become these dreaded, undying monsters. After transformation Sims gain special powers, such as the ability to change into a bat or a cloud of mist. They can also control other Sims' minds and suck on their life energy. You should be careful, though, not to expose them to sunlight for too long, because it can weaken or even kill them. Interestingly, the developers made it possible for players to customize their Sims' vampiric form. Some of the things you can adjust are the length of fangs, eye color, skin complexion, etc.
The expansion also adds a brand new location, called Forgotten Hollow. This neighborhood holds five residential parcels. Its unique stylistics is perfect for any vampire's taste. In this place, twilight is neverending, and the gothic mood is emphasized by eerie landscapes and an old graveyard. The expansion also offers a selection of new decorations for interiors, including interactive ones, such as organs, or coffins, where vampires can rest.
Game mode: single player
User score: 3,5 / 10 based on 259 votes.
PEGI rating The Sims 4: Vampires
The Sims 4: Vampires System requirements
Recommended:
Core i5 2.33 GHz
4 GB RAM
graphic card 1 GB (GeForce GTX 650 or better)
10 GB HDD
Windows 7/8/8.1
Internet connection