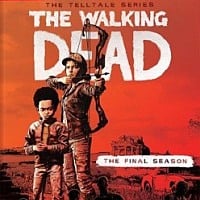 The Walking Dead: A Telltale Games Series - The Final Season is the last entry in the series of adventure games started in 2012 by Telltale Games (the creators of Batman: The Telltale Series, The Wolf Among Us: A Telltale Games Series, and many other games). Contrary to the previous entry in the series titled A New Frontier, in which one of the main playable characters was Javier Garcia, this time the developers focused mostly on Clementine. She debuted in the first entry in the series as a small girl and the final season will present the end of her adventure in the world filled by zombies. Telltale Games is traditionally publishing the game in episodes. The Walking Dead series is based on comics written by Robert Kirkman.
Plot
The Final Season takes place a few years after the events depicted in A New Frontier. Clementine is the main protagonist of the story. The boy named AJ returns as well – Clementine is taking care of him. The story of the final season was written, among other people, by Gary Whitt, the creator of the story of The Walking Dead – Season One. Shaped by the events depicted in previous seasons, Clementine is trying to create a normal life. In order to achieve this goal, she must become the leader of a new community. At the same time, she takes care of AJ, who is the last close person she has. The protagonists are looking for shelter in an abandoned school, where, as usual for the series, they must face hordes of zombies and desperate/amoral people. Together with Clementine, the players must make many hard decisions.
Mechanics
The game uses mechanics known from The Walking Dead series and the majority of episodic adventure games developed by Telltale Games, but it also adds some small improvements. The gameplay is focused on exploration and numerous conversations with non-playable characters. It lacks classic logic puzzles. Instead, a great emphasis was placed on the necessity to frequently make moral choices that can shape the story of the game. The title also features occasional action sequences. Contrary to previous games, this time they aren't presented as QTE sequences. Instead, the sequences aren't scripted anymore. The players are also provided with greater freedom when it comes to the exploration of the environment (the camera placed above the arm of the protagonist makes it easier).
Technical aspects
The graphics of The Final Season use a similar style to the one used in the previous entries in the series. The game features a completely new camera system. The camera is placed low above the shoulder of the character. The developers improved the engine in the final season of The Walking Dead: A Telltale Games Series. Now it supports 4K resolution and HDR. It is the last game powered by Telltale Tool – new games developed by Telltale Games will be created by using the Unity Engine.
System requirements
Minimum:
Intel Core 2 Duo 2.8 GHz
3 GB RAM
graphic card 1 GB GeForce GTS 450 or better
15 GB HDD
Windows 7 SP1 64-bit
Recommended:
Intel Core i5-2500K 3.3 GHz
3 GB RAM
graphic card 2 GB GeForce GTX 960 or better
15 GB HDD
Windows 7 SP1 64-bit