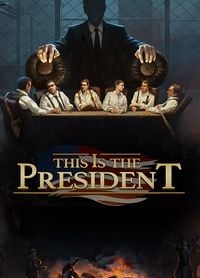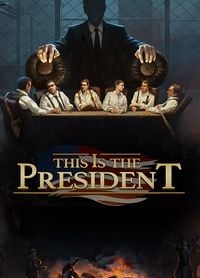 This Is the President
Strategy adventure game, inspired by the series This is the Police. In This Is the President we play the role of a new President of the United States, and our task is to ratify the 28th Amendment, which will provide us with lifetime immunity.
Strategy | Economic | RTS | adventure elements | politics | simulation elements
This Is the President is a strategy adventure game, inspired by This is the Police series. It was developed by SuperPAC studio, and published by THQ Nordic.
Plot
The action of This Is the President starts in 2020. We play the role of a corrupt American businessman, who despite his shady past was elected the new president of the United States. As the head of the most powerful country in the world, he must do everything he can to ratify the 28th Amendment to the US Constitution, which provides him with lifetime immunity. Otherwise, there is a risk that he will eventually have to face justice and answer for the crimes he has committed in the past.
Mechanics
This Is the President is played out in two ways. The first one, strategic, is about managing the country in a broad sense. During the game we take care of the structure of our cabinet, employing people of our own choice (each person has unique traits and skills, which may be useful), we create regulations and decrees, as well as manage state expenditures and deal with everyday problems. In addition, tasks such as organising press conferences and tweeting also fall on our shoulders.
No matter how well we perform as American president, sooner or later (more likely the first one) we will encounter opponents. We can deal with adversaries, both in our own environment and among other heads of state, in a variety of ways, such as blackmail, bribery and intimidation. In addition, nothing stands in the way of hiring lobbyists, hackers or even assassins, and then sending them on dangerous and secret missions.
The second gaming way, adventure, on the other hand, offers a thriller and political satire story. The protagonist's story is full of twists and turns, and our decisions affect whether we end up in handcuffs or succeed in our overarching goal.
Technical aspects
This Is the President features fairly sparse graphics, consisting mainly of an extended interface and illustrations presenting a variety of places, events and characters.
Game mode: single player
App size:
Age restrictions This Is the President: 16+
This Is the President System requirements
Minimum:
Intel Core 2 Duo E6750 2.66 GHz / AMD Athlon II X2 250 3.0 GHz
4 GB RAM
graphic card 1 GB GeForce GT 440 / Radeon HD 4870 or better
6 GB HDD
Windows 7
Recommended:
Intel Pentium G620 2.6 GHz / AMD Phenom II X4 965 3.4 GHz
8 GB RAM
graphic card 1 GB GeForce GTX 650 / Radeon HD 5750 or better
6 GB HDD
Windows 10/11