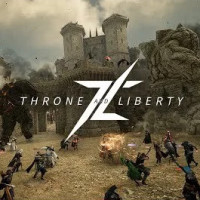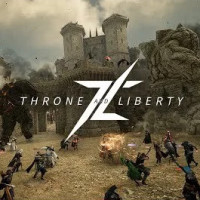 Throne and Liberty
MMORPG with action segments originating from the Lineage Eternal project announced in 2011. Throne and Liberty sets out to revamp the MMO formula by replacing repetitive activities with varied content and an interesting storyline.
Throne and Liberty is an MMORPG with a tumultuous past and many concept changes during the development process. Initially, the game was developed as a sequel to 1998's Lineage, eventually giving it its own unique character, along with a completely new storyline.
Storyline
The antagonist of the game is Kazar, the Upi?r of Conquest, awakened from his long slumber by the ambitious Revil Lupius. Together they have conquered Solisium Castle and kidnapped Calanthia, a girl who is under a curse, wanting to use her to get all the fragments of an ancient artifact that provides unlimited power. As the player, we must oppose them, traversing the entire land and fighting their spawn.
Mechanics
Throne and Liberty is an action MMORPG, in which the gameplay is observed from a third-person perspective. The character we create at the beginning of the game is very mobile, both during combat and during normal movement around the locations. We can run, walk, smoothly jump over obstacles thanks to a simple parkour system, and even attract ourselves with a line with a hook to designated points. Combat is dynamic and based on character skills. Depending on how you guide your character, you fight either in close combat, shooting with ranged weapons or using magic. Each weapon has its own strengths and weaknesses: two-handed weapons have great range and damage, but attack slowly, using a shield and sword we gain bonuses to defense, but have less offensive potential, etc. Spells are also divided into several types: offensive, defensive or transformation. By turning into a suitable animal, we can even take on the back of another player and thus move. Moreover, it is possible to transform into flying and water creatures. A rope with a hook is also useful during clashes: it is used to draw opponents closer to the protagonist. The creators made sure that there are more such complementary mechanics. If you start using fire spells during the rain, their damage will be weakened, and if you use lightning spells, they will turn into area attacks. Precipitation can block entrances to some locations, such as low-lying caves, and wind affects the flight path of arrows.
Exploring locations, defeating enemies and completing quests, we gain new equipment and experience. Some of the acquired items can also be viewed in detail in a special menu and thus gain additional information about the plot. Weapons and spells are closely linked to the story, and their special properties serve to tell additional plots. Each area has its own set of opponents, requiring us to take a different approach to combat. They are divided into regular and bosses, which we will face mainly with the help of other players.
Game modes
Throne and Liberty is an MMORPG focused on PvE battles, where players cooperate with each other during clashes with computer-controlled opponents. The game offers various options for communicating with others and coordinating actions in multiple personas. On a single server, hundreds of players can participate in battles simultaneously.
Technical issues
The game at the time of its release had very nice graphics, exceeding the level of most such titles from a similar period.
Game mode: multiplayer Multiplayer mode: Internet
Age restrictions Throne and Liberty: 16+