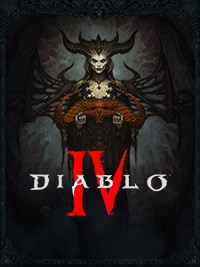 Game mode: single / multiplayer
Multiplayer mode: Internet
Diablo IV is the fourth installment of the cult series of hack'n'slash games. The production was developed by Blizzard Entertainment studio, the authors of the previous parts of the series, as well as such games as Overwatch, StarCraft II and Hearthstone.
Plot
The action takes place in the grim land of fantasy known as the Sanctuary. Once again, it becomes the target of an invasion by the Burning Hells army, which can only be confronted by heroes led by players. The forces of evil are led by the demonic Lilith, who, through a dark ritual, has returned to the world of mortals after the ongoing eons of exile.
Mechanics
The game was built on the foundations of the previous parts. Diablo 4 is a classic hack'n'slash game. The events are observed from an isometric view and the game focuses on exploring the world, collecting objects, completing tasks and, above all, fighting hordes of enemies with a variety of weapons and special abilities.
Starting the game we choose between several classes of characters. Each of them has its own style of fighting with unique skills. The sorceress manipulates the elements, e.g. by throwing lightning, piercing enemies with ice spikes or bringing rain of burning meteorites. The barbarian, on the other hand, relies on physical strength and short-circuit combat using a rich arsenal of weapons. The Druid, on the other hand, is able to turn into a bear and werewolf, and in skirmishes it is accompanied by forest animals. In addition, it has magical abilities associated with the forces of nature.
An important aspect of the game is the character development system. Each class has a unique skill tree and the player can improve his character's combat capabilities through talents, ability points, runes and legendary loot.
The explored land has a two-layer structure. The surface resembles a MMO game. It is a great network world with a fixed shape, in which large groups of players can move around. There are also PvP zones for fighting other people. On the other side, dungeons have the form of small instances, i.e. closed worlds for a team of several people, which are generated randomly.
Technical aspects
The game offers a dark atmosphere, full of brutality and elements directly from horror movies. The authors abandoned the cartoon style of the third movement and based their work on the atmosphere of Diablo II.
Production does not offer offline mode. The MMORPG-like way of designing the game world makes it necessary to have a permanent Internet connection even when playing alone.