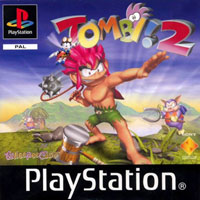 Tombi! 2
PS1
Side-scroll platformer which is a continuation of Tombi! The player again plays the role of the title boy, who tries to find his lost girlfriend and once again deal with the evil pigs. The game consists mainly in performing more than hundreds of tasks commissioned by NPCs.
Arcade | platform | 2D | side-scroll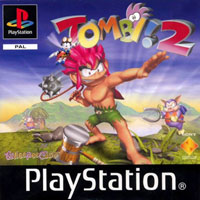 game language: English
game release date for PS1:
31December1999
Tombi! 2 is a continuation of Tombi, a platformer created in 1999 by Whoopee Camp!. The production was released by Sony Computer Entertainment on PS1. In North America, the game is known as Tomba! 2: The Evil Swine Return, in Japan as Tomba! The Wild Adventures.
Plot
In Tombi! 2, we again play as a wild boy who lives a peaceful life after he saved his grandfather's valuables from the evil pigs. Everything changes when the hero receives a mysterious letter from which he learns that his girlfriend, Tabby, has disappeared. The protagonist begins a journey - his goal is to find the beloved and face the pigs again.
Mechanics
Tombi! 2 on PS1 develops gameplay mechanics known from its predecessor. The game is a side-scrolling platform, in which our goal is to perform a number of tasks commissioned by independent characters. There are more than a hundred missions, four of which are unlocked only when the game detects a save file from the original game. By completing them, we get points for which we can open chests containing different treasures.
The protagonist can move around the world in two dimensions, although at selected points it is possible to change the perspective and, for example, to go deep into the screen. In addition, during visits to cities, the camera changes position and is hung over the character's head, giving us more freedom of movement. Tombi can acquire special outfits, thanks to which the boy gains special abilities. For example, a pig's clothing allows him to communicate with these animals and dressing up as a squirrel protects him from the cold and allows him to glide in the air.
Similar games:
Age Rating
age requirements: everyone