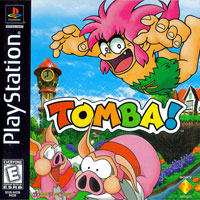 Tombi!
PS1
Side-scroll platformer, in which the player takes on the role of a boy with pink hair, trying to catch the bad guinea pigs. These stole the hero's grandfather's bracelet and contaminated the protagonist's idyllic house. The main character can jump, grab and throw objects.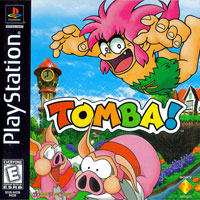 game language: English
game release date for PS1:
04September1998
Tombi! (released in the United States as Tomba! and in Japan as Ore! Tomba! ) is a side-scrolling platform game in which the player takes control of a wild boy traversing colorful locations in pursuit of evil pigs. The production was created by Whoopee Camp and published in 1998 by Sony Computer Entertainment.
Story
The action of Tombi! takes place on a picturesque archipelago of islands somewhere in the middle of the ocean. The people of the region lived in peace until one day seven bad pigs appeared, which contaminated the environment using black magic. The player takes on the role of Tombi, a young boy who sets out to chase the pigs in order to capture them, restore peace to the land and recover his grandfather's bracelet stolen by the evil animals.
Mechanics
In Tombi, the player wanders through colorful levels full of puzzles, hidden objects and enemies. The main character is able to jump and grab various objects, which he can then throw. This skill is used not only in combat, but also to solve environmental puzzles.
Although the protagonist's ability to move is limited to two dimensions, at selected points the protagonist is able to change the current plane and move deep into the screen, for example by climbing the roof. The game consists mainly of completing missions commissioned by NPCs. These usually have us search for specific objects and are rewarded with points for which the player can open chests with useful content.
Similar games:
Age Rating
age requirements: everyone