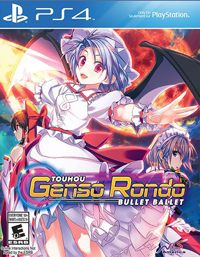 game language: English
game release date for PS4:
11June2015
Touhou Genso Rondo: The Bullet Ballet on PS4 is a combination of a shoot'em up and a fighting game that takes place in the universe of the extremely popular Touhou series. The brand was created by an independent developer named ZUN, which in 1996 began working on a series of classic two-dimensional shoot'em up games created for PCs. They quickly defined a sub-genre of bullet hell that spawned many imitators. The gallery of hundreds of heroines created by the author and their magical world of Gensokyo have gained a lot of fans all over the world.
In two decades, the Touhou brand has grown big. Every year, its fans produce a huge number of games, comics, books, music and animations inspired by the brand. Touhou Genso Rondo: The Bullet Ballet is one of the effects of this fascination. The game was developed by CUBETYPE. It was inspired by the gameplay in Senko no Ronde, and arcade hit. At least several versions have been released, including the 2007 console port of WarTech: Senko No Ronde. Touhou Genso Rondo: The Bullet Ballet was first released on a PC. Later, it was ported to PlayStation 4 by Mediascape.
Plot
Touhou Genso Rondo: Bullet Ballet takes place in the magical land of Gensokyo. The game allows us to play as one of the ten most popular heroines in the series. The creators have placed small role-playing scenes between the single player campaign battles depicting short stories associated with each protagonist.
Mechanics
During the game, players control one of the ten available heroines and fight against a single opponent in a closed two-dimensional arena. These battles are presented from a top-down perspective. Characters use a variety of magical attacks. As for the controls, we use two analog sticks - one is responsible for the movement of the character, the other for the direction in which we shoot. Each heroine's attack is unique - their projectiles have a limited range and speed. In addition to them, we also use spell cards that appear randomly in the arena.
Game modes
In addition to the story campaign and standard arcade mode, where we fight with increasingly difficult enemies, Touhou Genso Rondo: Bullet Ballet also offers a multiplayer mode, both local and online.
Technical aspects
The game offers simple three-dimensional graphics, and the image is displayed in high resolution. The game runs at 60 frames per second. The fights are accompanied by a dynamic soundtrack.

Game score 6.9 / 10 calculated out of 7 players' votes.