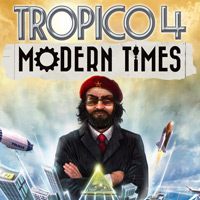 Tropico 4: Modern Times
An official expansion pack for an economic strategy game Tropico 4 from 2011, which was created by Haemimont Games - a Hungarian developer. Again, the player assumes the role of a dictator ruling a small banana republic.
This is Tropico 4 expansion pack.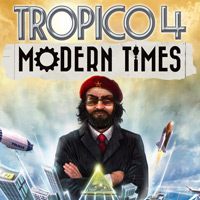 Game mode: single / multiplayer
Multiplayer mode: Internet
Tropico 4: Modern Times for PC and X360 is the first full-fledged expansion pack for an econonomic strategy game Tropico 4 (2011). Owning the core game is required and Modern Times was developed by the Hungarian Haemimont Games again.
Mechanics
As usual, the player assumes the role of a dictator ruling a small, tropical republic. As the title suggests, El Presidente's task in Modern Times is primarily to modernize their country. Executing such plans can get interrupted by treacherous rebels. All of this is contained within an extensive singleplayer campaign, which includes 12 different missions.
Switching the time period from the early Cold War to the titular modern times enriched the game with a wide set of new elements, such as the Internet, terrorist organizations, global finance markets or space flights. Buildings used in the base game have become obsolete and most of them have to be either upgraded or replaced with modern structures. The changes in the system behind the in-game economy also make it necessary to modernize transportation. As a result, El Presidente has new opportunities, but also several new duties. To illustrate, the Internet facilitates communication, but simultaneously makes it necessary to restrict the freedom of speech - after all, free flow of thoughts might lead to the collapse of the player's dictatorship.
Tropico 4: Modern Times for PC and X360 offers over thirty new buildings and structures among which, the player will find mainly skyscrapers, apartment buildings and bio-farms. Furthermore, upgraded versions of buildings that appeared already in the base game were included, such as banks or museums. The aspect of ruling the country directly was enriched with ten new edicts allowing mainly to restrict citizens' access to the Internet, establish the state of emergency, or organize the Festival of Love.
Similar games:
PEGI Rating
System requirements
Recommended:
Quad Core i5 2 GHz
2 GB RAM (4 GB RAM - Vista/7)
graphic card 512 MB (GeForce 8800 or better)
5 GB HDD
Windows XP/Vista/7