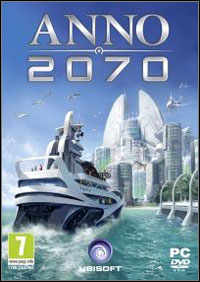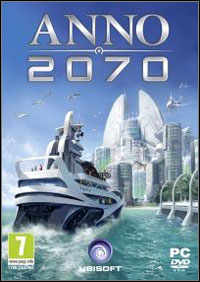 Anno 2070
PC
Another installment in the popular series of economy strategy games developed cooperatively by Related Designs, the creators of the franchise, and the legendary Blue Byte studio under the watchful eye of Ubisoft.
Strategy | science fiction | Economic | RTS | city builder
Anno 2070

Release Date PC

17November2011
developer: Related Designs publisher: Ubisoft Official website

game language: English
This is the fifth part of one of the most popular economic strategy game series available on the market. The series was born in Sunflowers Studio, which created the first two installments. Production of 1701 and 1404 editions was handed to Related Design. The same team also developed Anno 2070, although this time they were assisted by people from Blue Byte, the creators of The Settlers series.
The action takes you into near future. By the year 2070 climate changes will have resulted in a drastic raise of the sea level, bringing down a truly biblical deluge on humanity. In such circumstances, people decided to use proven methods, and just as Noah did, they built Arks, in order to ensure survival of our species, and help it rebuild its former strength on the portions of land still above the surface of water.
Gameplay is based mostly on the mechanisms well-known to fans of the series, which were, however, enriched with a range of new features. For the first time in the history of the series you get to control three factions - Tycoons, Echoes, and Tech. The former rely on industry and aggressive expansion. They could not care less about the environment, instead their priority is to achieve high profits and fast collection of resources. The second faction prefers slower industrial development, and focuses on renewable energy sources, thus leaving the natural environment nearly unspoiled. The last one is focused on new technologies and leads research on virtually every possible sphere of life. They rely on numerous laboratories and research centers built on the seabed. Interestingly, these fractions does not oppose one another and the game does not force you to side with only one of them. Instead, they simply serve as paths of development that you are free to use and combine in order to achieve your goals. All factions have different structures, technologies and unique needs of their people.
Another novelty is the Ark, a huge water vessel serving as your command center and a sort of player avatar in this virtual world. It is also the only constant factor, available at the beginning of each mission. It creates a feeling of continuity in the campaign, since the Ark can be improved and can carry raw materials, which do not disappear at the end of each level. Thus, you do not start from scratch every time. The ship is also integrated with your online profile. The transition into the future also necessitated complete remodeling of the resources system. Some were removed, and many others were added, such as sand, oil, and glass. Above all, there is electricity, necessary for most buildings. Moreover, ecology plays a huge role. Destroyed environment gives out less yield, thus, along with the increase of devastation the economic usefulness of an area declines.
Anno 2070 features several play modes. In addition to the main campaign abounding in challenges, players can choose continuous game, which actually never ends. The creators also provided online multiplayer mode. You can either compete or cooperate with others. What is more, there are very extensive configuration options of multiplayer gameplay rules. Also social features make an excellent addition. From time to time, all three factions use legislative initiative and players vote which option should be accepted, thus introducing modifications to the rules of the economy.
In terms of audio-visuals, the game is a big step forward in comparison to the previous parts of the series. Anno 2070 is based on a new engine, which uses all the benefits of DirectX 11. With it, it was possible to improve not only the level of detail, but also to increase the scale of virtually all elements of the game world. Now ships are impressive in size and no longer resemble nutshells, and large harbors surely do look more realistic. Neutral factions were joined by the smuggler, who lives on an old American aircraft carrier, whose sizes are equal to some smaller islands from Anno 1701 and 1404. What is more, cities finally look like real metropolises, and not only vibrant villages.
Last updated on 27 November 2014
Game mode: single / multiplayer Multiplayer mode: Internet
Media type: 1 DVD
User score: 8,6 / 10 based on 1439 votes.
Pre-release expectations: 8.7 / 10 based on 678 votes.
PEGI rating Anno 2070
Anno 2070 System requirements
Recommended:
Core 2 Duo 2 GHz
2 GB RAM (4 GB RAM - Vista/7)
graphic card 512 MB (GeForce 8800 GT or better)
5 GB HDD
Windows XP/Vista/7