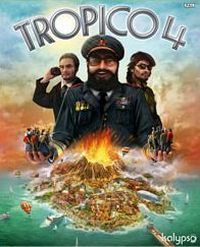 Tropico 4
The fourth installment in the humorous series of economic strategy games in which we assume the role of a ruthless dictator of a small banana republic.
Strategy | Economic | RTS | cold war | city builder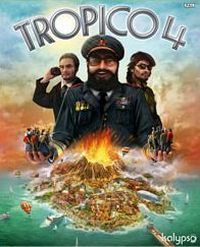 Game mode: single / multiplayer
Multiplayer mode: Internet
In Tropico 4 for PC and X360, similarly to the previous installments of this strategic game series, we take the reins of a small, insular country, trying to steer it the best way we can by undertaking right strategic and economic decisions. The title was created by Haemimont Games, the studio responsible for the third installment.
Gameplay
In all, the multi-hour campaign contains twenty missions taking place on ten new maps. As a leader, we have to take care of our inhabitants and guarantee the island's strong position on the area of international politics. This is achieved mainly through development and investing in new buildings, aimed either at providing entertainment for our subjects (for example, malls and waterparks), as well as boosting the economy (stock exchange).
Our reign is not free from the protests of political enemies – keeping good relations with the parties operating on the island becomes an important aspect of the game – we achieve it through bribery, intimidation, or if the situation is dire, public executions. Military is also a useful tool in maintaining order. Under the leadership of loyal generals, the army can quell protests and anti-government demonstrations. Nevertheless, the paramount objective is to maintain a positive account balance – to achieve it, we need to build new industrial outposts, and by using the unique natural resources, create our island's trademark products. In case of an uncertain election, we can issue a number of decrees and acts that will quickly sway the inhabitants to our rule.
If we want to incite economic growth and increase our manufacturing output, we can use the barter system, allowing for importing and exporting goods between countries. Cooperation with our neighbors is necessary in order to achieve the goal of an impeccable economic situation of our country.
Aside from the common problems that could happen to any dictator, our island can be struck by one of the interactive catastrophes resulting in really destructive consequences. Volcano eruptions, tornadoes, droughts – this time we'll be facing such disasters. In the critical moments, we can use a national program showing the demands and suggestions of the oppositions, as well as helping to react to current events and disasters. In case of an emergency, effects of natural disasters can be minimized thanks to the help of the Red Cross.
Technical aspects
The visuals are one of the highlights of the game. They are very colorful, while the environment has been polished to the smallest detail. During the gameplay, we can make photos of the prettiest sceneries and send them to our Facebook or Twitter account.
PEGI Rating
System requirements
Recommended:
Quad Core i5 2 GHz
2 GB RAM (4 GB RAM - Vista/7)
graphic card 512 MB (GeForce 8800 or better)
5 GB HDD
Windows XP/Vista/7