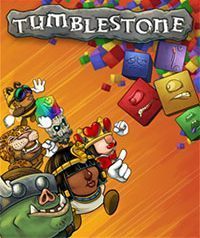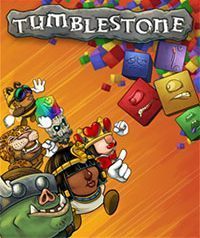 Tumblestone
A dynamic multiplayer-oriented action game by The Quantum Astrophysicists Guild, and a combination of the mechanics of casual match-3 games with elements of such classic titles as Tetris or Asteroids.
Tumblestone is a puzzle game released on PC, XONE, etc. It is another variation of the popular genre of match-3 puzzles. Unlike most of the purely casual games in this genre, Tumblestone is focused on dynamic action and multiplayer mode. The game was created by The Quantum Astrophysicists Guild, a studio founded by Ty Taylor and Mario Castaneda, authors of The Bridge, one of the best independent games of 2013 by.
Mechanics
Tumblestone's gameplay could be described as a combination of match-3 games, Tetris and Asteroids. The whole game consists of shooting down the falling, coloured blocks with a laser beam located at the bottom of the screen. Our goal is to clean the map from all the blocks by combining three elements of the same color so that they disappear from the screen. This seemingly simple mechanic is, however, diversified by numerous modifiers that can dramatically change the situation on the map, and even the rules of the game. This, in turn, forces players to think intensely and plan their next moves in advance. An additional incentive to play the game are hundreds of bonus challenges and a lot of opportunities to personalize the map and blocks, unlocked gradually as the game progresses.
Game modes
Tumblestone offers the opportunity to play in several different gameplay modes for both single and multiplayer modes. The game features over a thirty-hour campaign, offering a variety of challenges and puzzles, and boss battles. The game also features an arcade mode, which offers three gameplay variants: relaxing Marathon, thought-provoking Infinipuzzle and extremely dynamic Heartbeat.
The game also puts a lot of emphasis on multiplayer, in which we can participate both in local mode and via the Internet. Up to four players can participate in each match and they cooperate or compete with each other on the same screen. Playing online is enriched by a well-developed matchmaking system and player rankings. If we can't find anyone to play, we can be accompanied by artificial intelligence. In addition, we can also choose one of several difficulty levels, adjusting the intensity of the game to your preferences.
Technical aspects
In terms of the graphics, Tumblestone, released on PC, XONE, etc., does not differ dramatically from the majority of the games of the match-3 genre. It is worth mentioning, however, the elaborate, hand-drawn graphic design and considerable possibilities of personalization.
Game mode: single / multiplayer Multiplayer mode: Internet Player counter: 1 - 4
User score: 2,2 / 10 based on 31 votes.
PEGI rating Tumblestone
Tumblestone System requirements
Minimum:
Intel Pentium 4 1.6 GHz
1 GB RAM
1 GB HDD
Windows XP SP2