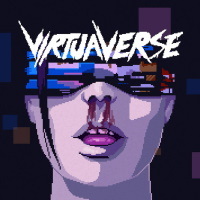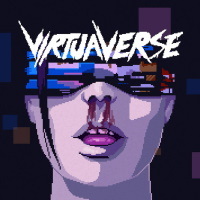 VirtuaVerse
VirtuaVers is a cyberpunk adventure game that is a debut of Theta Division studio and Blood Music publisher on the game market. During the game we travel through a dystopian world controlled by artificial intelligence, solving puzzles and talking to the characters we meet.
Adventure | cyberpunk | science fiction | point-and-click | 2D | indie games
VirtuaVerse is a cyberpunk point-and-click adventure created by debuting studio Theta Division. The project was developed over several years and released by the Finnish company Blood Music as the first game from the catalogue of a metal music publisher.
Plot
In the near future, some artificial intelligence has managed to take control of other systems and traditional governments. The result of this event was the migration of society to a world governed by a global neural network that constantly optimizing people's experience by processing their personal data.
The main hero of the game is Nathan, one of the few people who rebelled against the new order. Thanks to the modified augmented reality set, Nathan is able to turn off the digital world and see it as it really is. He earns money by smuggling unauthorized hardware and software, and shares the apartment with his girlfriend Jay, who specializes in creating AR graffiti with the help of drones. One morning, however, his beloved disappears, leaving behind a damaged set of augmented reality and a mysterious message on the mirror. To find out the truth about Jay's fate, Nathan will discover her connections to a group of hackers and during his journey he will visit places such as the hardware graveyards or the guild of AR technomancers.
Mechanics
VirtuaVerse uses the classic point-and-click adventure scheme. During the game, we observe the action from the side and going through locations, covering mainly districts of the futuristic city, but also the tropical jungle and snowy peaks. In these places, we talk to NPCs, search for useful items, and solve puzzles. Thanks to these interactions we also get to know the plot and gradually discover the story of Jay's disappearance.
Technical aspects
VirtuaVerse's graphic design is maintained in the pixel art style, based on productions from the 1990s. The game is accompanied by synthesizer music that emphasizes the cyberpunk atmosphere.
Game mode: single player
User score: 3,5 / 10 based on 8 votes.
Age restrictions VirtuaVerse: 12+
VirtuaVerse System requirements
Minimum:
Dual Core 2.0 GHz
2 GB RAM
graphic card Intel HD 3000 or better
2 GB HDD
Windows 7