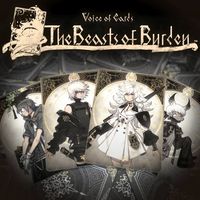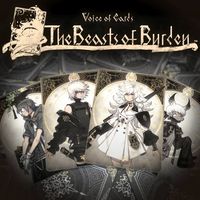 Voice of Cards: The Beasts of Burden
A new game in the series of card games Voice of Cards developed under the banner of Square Enix. The main character of the position is Al'e, who can catch defeated monsters to then use them in subsequent battles.
RPG | fantasy | turn-based | card games
Voice of Cards: The Beasts of Burden is the third installment in a series of card games inspired by classic tabletop RPGs. The game mechanics refers to the previous parts in the series, while at the same time it is a standalone production with the action set in a new universe.
Plot
Voice of Cards: The Beasts of Burden presents a world where humanity has been clashing with monsters for thousands of years. The main character of the game is Al'e - a young girl who comes from an underground village fenced off from all dangers by a powerful wall. She forever abandons her former life when the defenses are breached and her home is attacked by creatures.
To the protagonist's aid comes the mysterious L'gol, with whom she makes her first trip to the surface. From that moment on, Al'e begins to seek an opportunity to take revenge on her loved ones' tormentors.
Game mechanics
Following the pattern of previous installments, the gameplay in Voice of Cards: The Beasts of Burden refers to both card games and tabletop RPGs. Tabletop RPGs. A characteristic element of the title is the character of the game master, who is responsible for narration, gives hints and adds humor to the story.
We travel through deserts, mountain peaks, lava lakes, mines and cities, among others. We take part in clashes, use special abilities and equip the characters with the appropriate equipment. New to the series is the ability to capture defeated enemies to then use their strength in subsequent duels. We can also purchase monster cards from the store.
The production includes a game room, which allows us to take a break from the main plot and face friends (only in local mode) or rivals controlled by the artificial intelligence.
Technical aspects
Voice of Cards: The Beasts of Burden catches the eye with its design. Each element of the presented world is represented by richly illustrated cards. This applies to both heroes and enemies, special abilities, equipment or each of the locations visited.
Kimihiko Fujisaka (Drakengard series) was again responsible for the character designs, while Keiichi Okabe (Nier series) was responsible for the music.
Game mode: single player Multiplayer mode:
Age restrictions Voice of Cards: The Beasts of Burden: Good for all ages.
Voice of Cards: The Beasts of Burden System requirements
Minimum:
AMD A8-7600 / Intel Core i3-2100
4 GB RAM
AMD Radeon R7 260X / NVIDIA GeForce GTX 650 (VRAM 2GB)
5 GB HDD
Windows 8.1/10 64-bit (1909 or better)
Recommended:
AMD A8-7600 / Intel Core i3-2100
4 GB RAM
AMD Radeon R9 270X / NVIDIA GeForce GTX 660
5 GB HDD
Windows 8.1/10 64-bit (1909 or better)