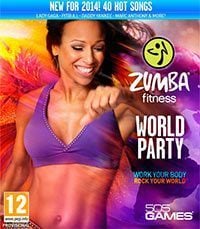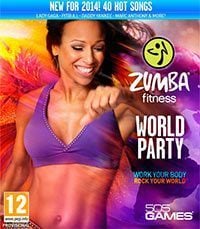 Zumba Fitness World Party
The next installment of one of the most popular series of games. The project again requires players to get up from their armchairs and perform exercises, as well as dancing in front of the TV screen.
- Get fit to 40+ new routines set to fresh Zumba original tracks and hits from todayís superstar artists including Lady Gaga, Pitbull and Daddy Yankee. Full soundtrack details to be announced.
- Move to 30+ dance styles from around the world including Salsa, Hip-Hop, Tahitian, Calypso, Bollywood, Cumbia, Reggaeton and Irish Step, plus new additions like Plena, Blues, Capoeira and Girly Funk.
- Explore the globe in the new World Tour mode that unlocks songs from seven global destinations as you progress, exposing you to authentic customs, local rhythms and native dance styles.
- New visual presentation makes you feel like youíre traveling the world for a global jam with your favorite celebrity Zumba instructors!
- Two player support on Xbox One and Kinect for Xbox 360, and four player support on Wii U and Wii let you party together with friends and family members in cooperative play.
- Set personal fitness goals or work toward pre-set goals to unlock bonus rewards and fitness tips.
- Enhance your workout with the streamlined Progress Tracker Plus that tallies all of your stats: technique score, calories burned, goals met, etc.
- Move with 14 superstar Zumba instructors: Beto, Gina Grant, Kass Martin, Melissa Chiz, Heidy Torres, Loretta Bates, Nick Logrea, Armando Salcedo, Priscilla Sartori, Peter Wang, Eric Aglia, Dr. B and BhangraBros.
- Dance naturally hands-free with Xbox One and Kinect technology that enables full body motion tracking for a freeing interactive workout. Wii U and Wii versions include an exclusive Zumba Fitness belt so you can holster your Wii Remote.
- Unlock motivational rewards as you explore the globe: behind-the-scenes videos, passport stamps, postcards, souvenirs, fitness tips and achievements.
- Flaunt your fitness in up to 45 pre-set classes or customize your own workout.
- Accessible gameplay features Low, Medium and High Intensity routines tiered for all skill levels plus an expanded Tutorial mode.
Game mode: single / multiplayer Multiplayer mode: Player counter: 1-2
User score: 4,5 / 10 based on 36 votes.
PEGI rating Zumba Fitness World Party
Zumba Fitness World Party System requirements