News
video games
20 October 2023, 01:45
author: Christian Pieniazek
Long Gameplay From Assassin's Creed: Nexus Shows Highlights
A long gameplay from Assassin's Creed: Nexus has seen the light of day. The video footage enables you to take a close look at the most important elements of the game and get acquainted with its story layer.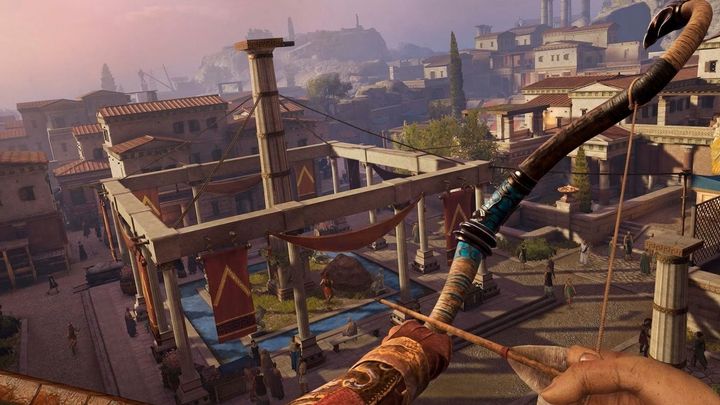 Ubisoft has released an extensive gameplay (nearly nine minutes of footage) from Assassin's Creed: Nexus VR. The video enables us to see the most important elements of the game in action - from moving around maps through combat to stealth. The video also sheds some light on its story layer.
Assassin's Creed: Nexus VR is a spin-off to Assassin's Creed, developed for the Meta Quest virtual reality headsets (Quest 2, Quest 3 and Quest Pro). The title will debut on November 16, this year.
The main character of Assassin's Creed: Nexus VR will be Dominika Wilk, a hacker who belongs to the Assassin brotherhood. Under the guise of working for Abstergo, the protagonist must unravel the mystery of artifacts hidden by Kassandra, Ezio Auditore da Firenze and Connor Kenway. As is not difficult to guess, in order to do this, our protagonist will "relive" their memories, so that during the course of the game we will take control of each of these characters.
Although we will watch the action from the eyes of the characters (FPP), the developers have made efforts to ensure that moving around the locations does not differ too much from what we are used to from other games in the series. The same is true of the combat, which will require blocking and parrying blows and launching quick counterattacks.
Against enemies we'll use the iconic hidden blades, as well as the bow, crossbow, tomahawk or throwing knives and bombs. Of course, there will also be opportunities for sneaking and silent eliminations.
Developers of Assassin's Creed: Nexus VR have made efforts to ensure that each player can customize the game to individual preferences. Among other things, the game will feature the ability to automate parkour and activate a teleport-based system for moving around locations, or even enable special filters that narrow the field of vision.
Interestingly, the game also implements a feature designed for people with a fear of heights. We are talking about a special "grid" superimposed on the image at the moment when the character finds himself, for example, on the roof of a tall building.