News
video games
22 September 2023, 10:47
Assassin's Creed Nexus Gameplay Trailer and Release Date
Assassin's Creed Nexus, the side-scrolling spin-off developed with VR in mind, will debut later this year. On the occasion of revealing the game's release date, a spectacular gameplay trailer hit the web.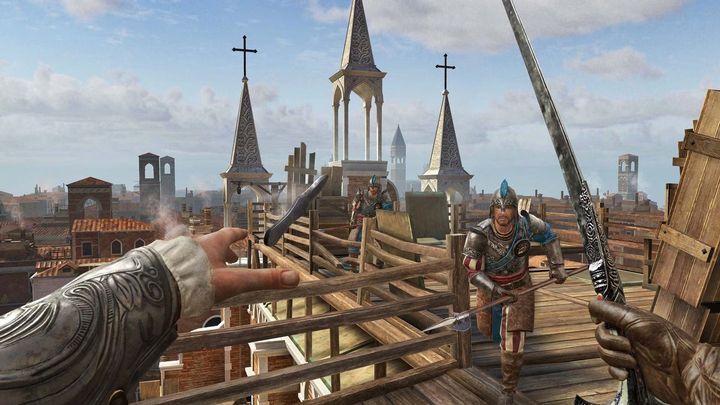 New footage from Assassin's Creed Nexus VR, the side-scrolling installment of the series about hooded assassins, developed for VR devices, has surfaced on the web.
Most importantly, on the occasion of the video's release (available below) the game's release date was revealed - November 16, this year.
The video shows gameplay fragments with three characters known from the previous main installments of the series, i.e. Kassandra (AC: Odyssey), Connor (AC III) and Ezio Auditore da Firenze (AC II, Brotherhood, Revelations), operating in different historical realities.
Dynamic gameplay shows that the protagonists will use weapons characteristic of themselves and their era, such as the Tomahawk in the case of Connor.
What's more, the game, in addition to stealth and open combat will offer no shortage of parkour with spectacular jumps, characteristic of the series, directly into a haystack - which magically cushion the full force of the fall. In addition to the typical "Assassin's work", Nexus will also feature puzzles.
Finally, I will point out that there is still little known about AC: Nexus VR's plot - whether they will be new stories that expand the knowledge of the lives of the characters in the series, or perhaps familiar stories, but presented in a condensed form and from a different perspective.
I would like to remind you that Assassin's Creed: Nexus VR is currently heading exclusively for the Meta Quest goggles (Meta Quest 2, Meta Quest Pro and Meta Quest 3).