News
video games
25 August 2023, 13:05
Armored Core 6 Launches - Impressive Start for a Difficult Game
Armored Core VI: Fires of Rubicon has begun to conquer the market. The game is achieving impressive activity results on Steam, despite the fact that many players have a big problem with the first boss.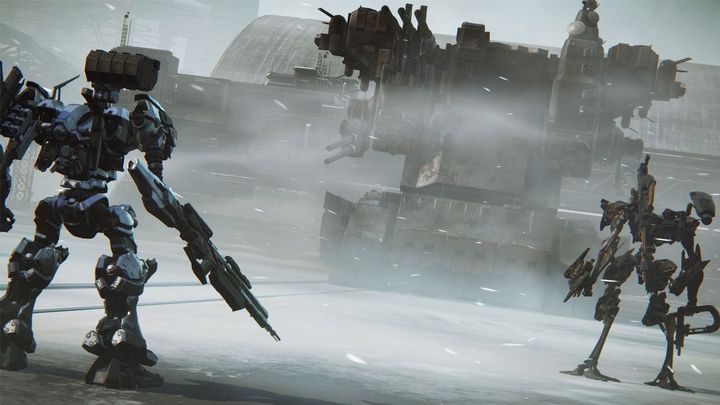 Armored Core VI: Fires of Rubicon has debuted on the market. It is an action game by FromSoftware and a continuation of one of the best series starring mechs.
The game is coming to PC, Xbox One, PlayStation 4, Xbox Series X, Xbox Series S and PlayStation 5.
The standard PC edition can be purchased on Steam. Console versions are available on PlayStation Store and Microsoft Store.
In addition, a so-called Deluxe Edition is also available - it offers digital bonuses in the form of an artbook and soundtrack.
A strong debut on Steam
Armored Core VI: Fires of Rubicon has debuted on Steam with a bang.
So far on the day of release, the game can boast an activity record of an impressive 129,285 concurrent players.
Armored Core VI clearly appealed to Steam users - 84% of player reviews praise the game, which is categorized as a "very positive" reception.
This time FromSoftware did not disappoint when it comes to the quality of the PC version. The game supports ultrawide resolutions and can even run at 120 frames per second..
Interestingly, players clearly have difficulty with the first boss from the tutorial. The forums on Steam is full of people who defeated it only after many approaches (and some even gave up further play). However, this is intentional - this opponent familiarizes us with the basic combat mechanics, the mastery of which is necessary at further stages of the game.
It is worth mentioning that the game also collects very good reviews from trade media. On OpenCritic, it has an average rating of 85%. The game also impressed our edito who gave it a rating of 9.0/10. He writes:
"Armored Core VI: Fires of Rubicon is a production suitable not only for fans of huge machines with devastating power. This is primarily a game that has enormous potential to satisfy anyone who's looking for thrills, adrenaline and intensity in games."
Finally, it is worth quoting the system requirements of the PC version of the game.
Armored Core 6 - minimum PC requirements
Operating system: Windows 10 (64-bit)
Processor: Intel Core i7-4790 / Intel Core i5-8400 / AMD Ryzen 7 1800X / AMD Ryzen 5 2600.
DirectX: 12
RAM: 12 GB
Graphics Card: Nvidia GeForce GTX 1650 / AMD Radeon RX 460 (4 GB VRAM).
Disk space: 60 GB
Armored Core 6 - recommended PC requirements
Operating system: Windows 10 / 11 (64-bit)
Processor: Intel Core i7-7700 / Intel Core i5-10400 / AMD Ryzen 7 2700X / AMD Ryzen 5 3600
DirectX: 12
RAM: 12 GB
Graphics Card: Nvidia GeForce GTX 1060 (6 GB VRAM) / AMD Radeon RX 590 (8 GB VRAM) / Intel Arc A750 (8 GB VRAM)
Disk space: 60 GB