News
video games
13 September 2023, 12:57
CoD 2023 Isn't Out Yet, Nothing is Known About 2024, and We Get Rumors About 2025
The release of Call of Duty: Modern Warfare 3 is yet to come, and reports have already surfaced online about an installment of the series allegedly scheduled for 2025.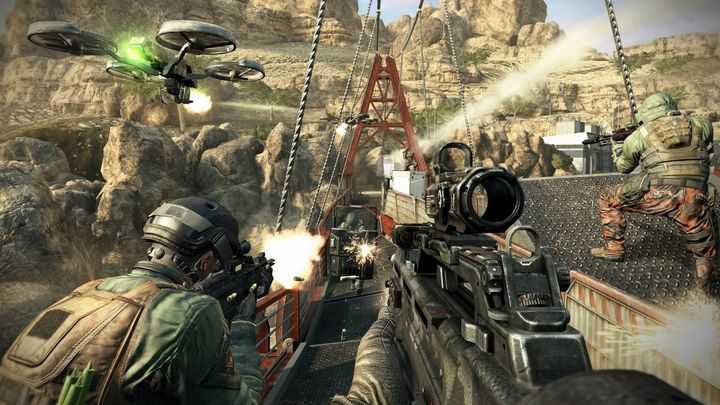 Source: Activision Blizzard.
i
Although it initially seemed that the new Call of Duty game will not be released in 2023, this will will not happen. There are less than two months left until the release of CoD: Modern Warfare III. And what comes after that? Assuming the series won't miss 2024 either - the next installment. It is probably being created by studio Treyarch and it will be part of the Black Ops sub-series.
Although we don't know anything more on the subject of the next Call of Duty - and also these two pieces of information are just rumors - reports have already appeared online about a CoD game that is supposedly to be released... in 2025. Allegedly, it will be a direct sequel to the game planned for 2024. The game would feature refreshed versions of maps from Call of Duty: Black Ops II.
Thus, it would be a project analogous to this year's MW3, which was originally reportedly planned to be released as a major expansion for Modern Warfare II from 2022.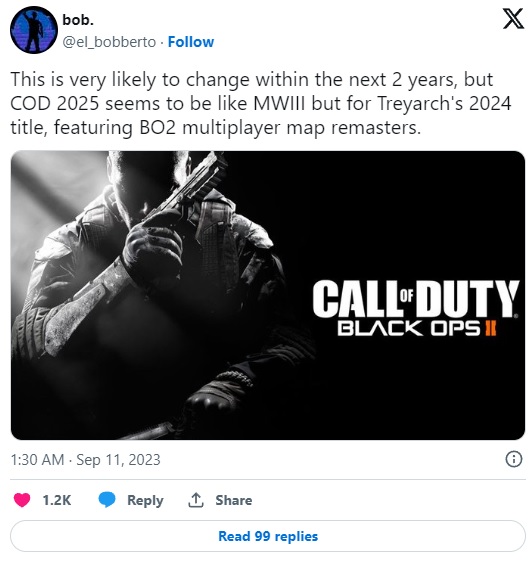 Source: Twitter / bob.
The sources of these reports are two informants well known to the CoD community from relaying rumors about the series that often turn out to be true - Twitter/X users known as bob. (@el_bobberto) and MW2 OG (@TheMW2Ghost). However, it is worth remembering that there is a lot of time left until 2025 and the plans of the developers responsible for Call of Duty may change. Their decision may be influenced, for example, by the reception of refreshed maps from CoD: Modern Warfare 2 from 2009, which will make their way into the upcoming CoD: Modern Warfare III.
Speaking of which, let me mention that the latter item will be released on November 10 on PC, PS4, PS5, XOne and XSX/S. It's also worth remembering that on October 29 Call of Duty will celebrate its 20th anniversary.