News
video games
11 July 2023, 12:53
Cities: Skylines 2 Will Feature Small 'Wonders' to Build; Devs Discuss Zones
The developers of Cities: Skylines 2 present further changes compared to the first installment of the popular city builder. Today they discuss zones and free unique buildings.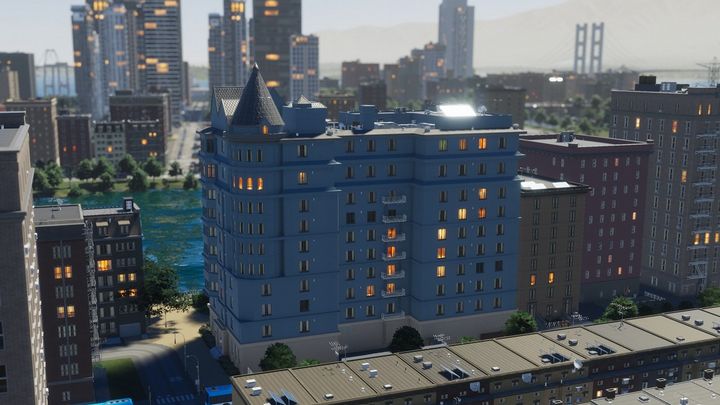 Source: Colossal Order / Paradox Interactive.
i
Another week brings with it a new blog entry from Colossal Order. This time creators of Cities: Skylines 2 discuss mechanics related to neighborhoods and the novelty of Signature Buildings.
If you are not interested in reading the long article on Paradox Interactive's official website, the publisher has also released a short video summarizing the dev diary entry. The video is available below.
Old-new zones
Zones in the city work on a similar principle as in the first Cities: Skylines, with slightly more of them in the sequel.
The developers have doubled the number of residential districts, giving the players, among others, the option of medium-cost terraced housing, cheap apartment buildings and a "mixed" solution with stores.
Players will also get access to neighborhood options familiar from the first game, but it will be easier to remove or change zones. Each tool will take into account the erasure function, and on top of that CS 2 will allow for the creation of other zones without the need to get rid of existing ones on a given field.
As a sidenote: Cities: Skylines 2 will allow for mixing European and American building styles. Another thing is that's where the players would like a bit more diversity (vide Reddit). Perhaps we will see it after the release in the inevitable DLC?
City symbiosis
Each type of neighborhood will have different demands, but the zones will be dependent on each other, so to speak.
Employees of corporations must live and shop somewhere, companies must sell their goods somewhere, and so on. Admittedly, there will always remain the option of exporting outside the city, only that it will be unprofitable for the companies (and thus the entire metropolis).
Players will be able to influence the zones in many ways, mainly by setting taxes to - for example - encourage companies to focus on producing certain types of goods.
Not only will this provide bonuses for specialization, but also potentially reduce costs. Especially if we ensure that manufacturers have access to materials so they don't have to bring them in from beyond the city.
Rents and building levels
As the city grows, it will be necessary to monitor land value in individual neighborhoods, using a special tool. The more an area is perceived as "desirable" by residents and companies, the higher its value to the city.
A side effect of increasing land value will also be an increase in fees. Rent that is too high can discourage residents, even if a zone offers them all the amenities (although the lack of these will prompt them to move out). Ultimately, this risks abandonment and damage to the building, increasing the risk of collapse.
However, high fees can also facilitate upgrading buildings, which will have five levels of development. True, each "advancement" will also increase the cost of living (and thus the rent), but it will also bring tangible benefits, reducing water and electricity consumption, increasing the number of available housing units, providing faster production, etc.
Small urban wonders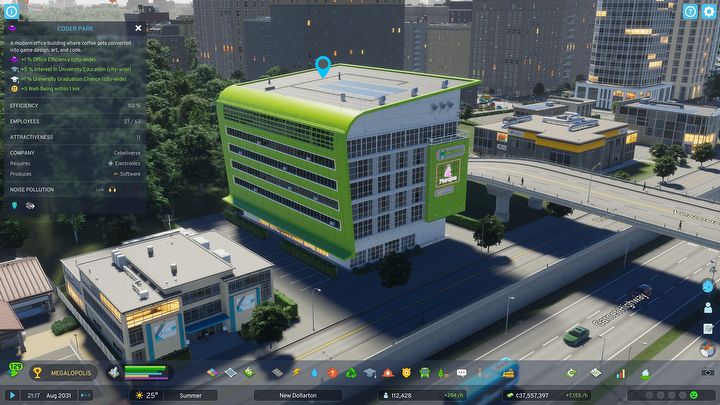 Unique buildings will provide benefits locally or for the entire metropolis.Source: Colossal Order / Paradox Interactive.
Having said that, we can move on to the novelty of Signature Buildings. Signature Buildings can be erected only after meeting certain requirements. There are no restrictions on where they can be built (just like service buildings), but only a single "copy" of each such structure can be present in the city at a time.
Signature Buildings are subject to the same rules as their "regular" counterparts. However, each of these unique structures also has one or more positive effects, whether on the immediate neighborhood or on the entire city.
For more information, visit Paradox Interactive's official website. Cities: Skylines 2 will hit the market on October 24. The game will be released on PC, PlayStation 5 and Xbox Series X/S, and will be available at the same time on Game Pass.