News
video games
19 September 2023, 15:08
How Cyberpunk 2077 Changed - Fan Collects Key Landmarks in One Infographic
A new infographic shows how CD Projekt RED has been improving Cyberpunk 2077 and what the game will receive in the free update 2.0 and Phantom Liberty DLC. The future of the game promises to be interesting.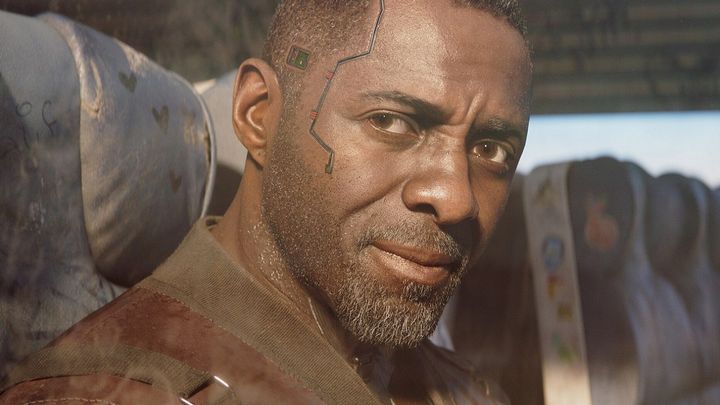 Cyberpunk 2077 has come a long and bumpy road. At launch, the game disappointed a wide range of players with its poor technical condition or lack of promised content, but since December 10, 2020, the title has received a number of updates that make it look much better today. One fan has prepared an interesting infographic, showing what has been introduced in the past and collecting in one place the content that Cyberpunk 2077 will receive in Update 2.0 and in the Phantom Liberty expansion.
The long road of Cyberpunk 2077
Reddit user Medikamentos, has prepared an infographic divided into three sections: the first takes into account the content from the free DLC introduced in the past, the second the news from update 2.0, and the third what will hit the game as part of Phantom Liberty. The changes are as follows:
Free DLCs introduced in the past
Task, jacket and weapons inspired by Edgerunners.
3 new contracts.
Possibility of transmogrification, i.e. changing the appearance of equipment.
Various new weapons.
Roach Race mini-game.
Poses for Johnny Silverhand and Nibbles in photo mode.
Neon rims on motorcycles.
Four new apartments.
Ability to change the appearance of characters.
New car.
Additional scopes and sights in weapons.
Version 2.0 content - available for free to all PC, PS5 and XSX/S owners of the game.
Improved police.
Redesigned implant system.
Ability to fight while driving vehicles.
Improved AI of opponents.
Visual enhancements.
Three new radio stations.
Plus crafting changes, easter eggs and more.
Content introduced in Phantom Liberty - available to owners
A new neighborhood - Dogtown.
New storyline.
Driving tasks, random events, rocket launcher in cars.
Relic skill tree.
Side quests, contracts, boss fights.
More than 100 additional items.
Maximum level increased to 60.
Pawel Sasko likes this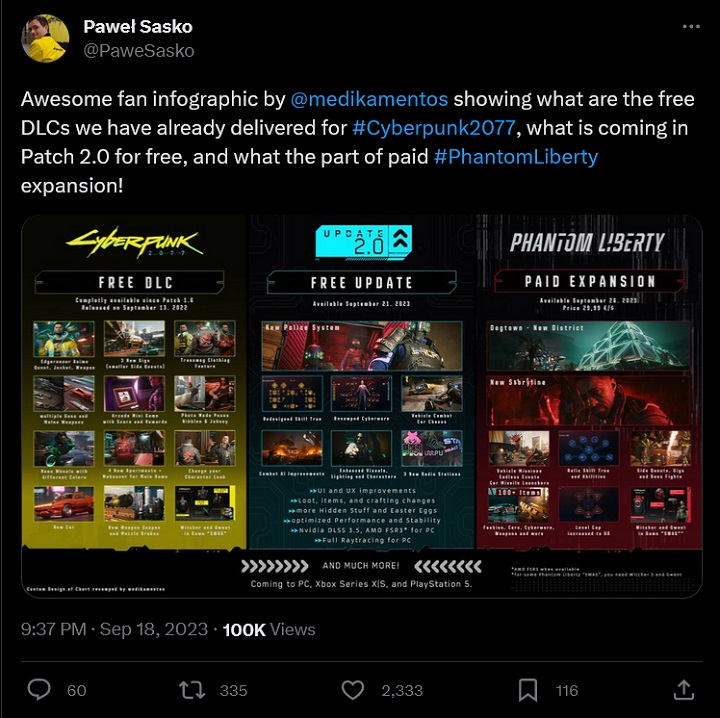 Pawel Sasko on Twitter
The post has not escaped the attention of Pavel Sasko, the game's task designer. On his profile on X (Twitter) he praised the creator of the inforgraphic. Under the post appeared comments in which players do not hide their excitement about what Cyberpunk 2077 will have to offer in the coming days.
Finally, I will also add that on the official Youtube channel of the game, a long video has appeared showing the behind-the-scenes creation of a new radio station - Growl FM. You can watch it below.
Update 2.0 for Cyberpunk 2077 will debut on September 21, while the release of Phantom Liberty will take place on September 26 at midnight CEST on consoles and at 1 a.m. CEST on PC. More details can be found here.