News
guides
06 June 2023, 16:00
Railway Empire 2 Guide - Tips for Beginners
If you are beginning your adventure with Railway Empire 2, in this guide you will find tips for getting started. They will enable you to get acquainted with the basics of gameplay.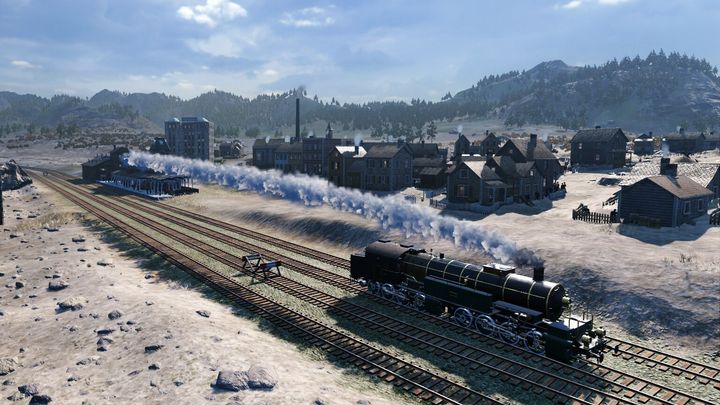 Railway Empire 2 is the second part of the economic strategy game series, in which we run our own railroad company. If you are just beginning your adventure with the title, here you will find a few tips to get you started. They will help you get acquainted with the basics of the game.
Lay the tracks properly
The layout of the railroad tracks is of great importance. This is because it affects how quickly goods or passengers will get from one point to another. At the same time, the cost of building them should not be too high. Therefore, it is important to keep in mind a few rules when creating a new line.
The path between stations should be as short as possible. So, if possible, avoid creating winding routes and bet on straight lines.
Once you've plotted your route, you'll see the speeds at which the train will travel at maximum. Adjust the tracks so that you can travel on them at the highest possible speed. To do this, choose places where the terrain is as flat as possible.
A single track heavily limits the line's "bandwidth". This is why you should build double-track lines in the most frequented sections. Also do not forget to set the movement directions (you can do this in the building panel).
Bridges are an expensive investment. Therefore, build them only as a last resort.
A very useful option when creating new tracks is to turn on Contour Lines. This way the trees do not obscure anything and you can only see the terrain. This way you can easily see all the major irregularities.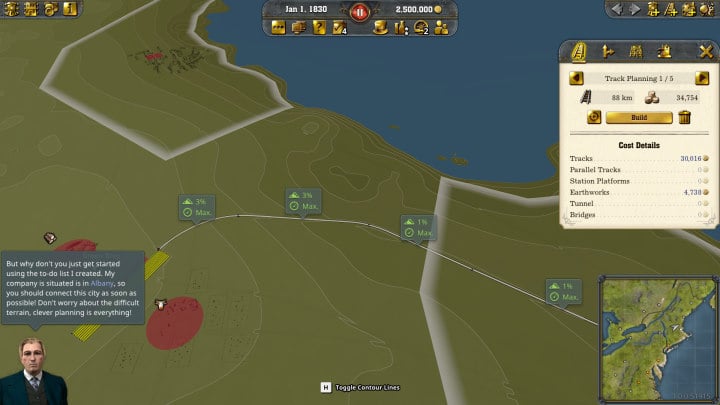 Remember about industrial buildings
Railroads are not just for connecting cities. You can also run them to local industrial plants. This is because each settlement produces certain goods. You can see them when you hover your cursor over the settlement's name. You need to supply the raw materials needed in this process.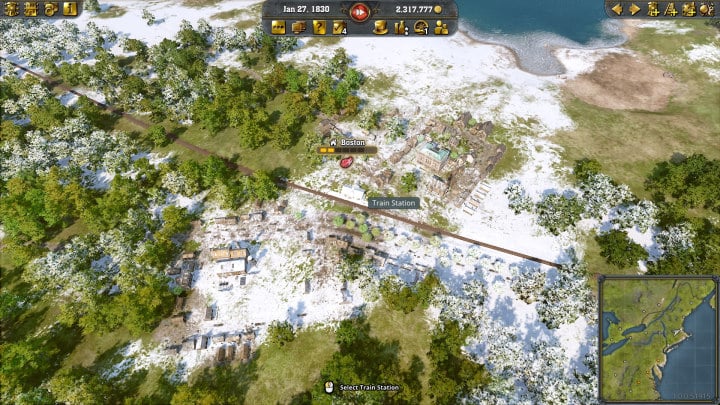 For example, if a town produces meat, you must supply it with animals. Therefore, you should find a farm on the map and connect it by railroad tracks.
Then you need to provide a market for the resulting goods. Check neighboring towns by clicking on their name and going to the "Goods Supply and Demands" tab. There you will find detailed information about production and demand for specific items.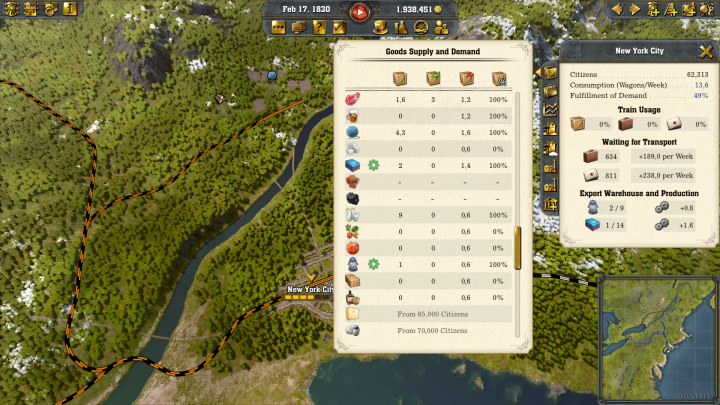 Regularly check the demand for goods
Each city wants specific goods that you need to supply. Over time, as the cities grow, more items appear on the list of needs. Therefore, check whether a settlement has passed a population milestone.
You can also prepare for the fact that at some stage each city will want certain goods. This is because the whole thing is predetermined and the inventory panel shows you everything a settlement will need during its development.
Set priorities for goods
If you urgently need to move a particular commodity, you can increase its priority. This way it will be loaded first. To do this, you need to go to the panel of all lines, select the one you are interested in, and then start editing it. In the upper left corner you will see a list of stations - hover over the one you want and click on the pen symbol. This will open a panel where you can modify priorities for goods.
Separate passenger and freight transport
In the strictly early stages of the game, running mixed trains, which included freight and passenger cars, is no trouble. Over time, however, cities will grow and need more and more freight. That's when it's a good idea to create two separate lines - one each for people and goods.
Put up service buildings
Trains break down over time. Therefore, you need to take care of their condition. To do this, put Maintenance Depot at stations, which will automatically make repairs. In addition, build Maintenance Post buildings next to the tracks that reduce the chances of breakdowns. The latter building is very expensive to maintain. Therefore, put them only in necessary places - for example, on very long stretches between stations.
What is also important. Locomotives do not run on air. They need oil, water and sand (their supply is indicated by the bar at the bottom of the summary panel of a given train). So you need to replenish them regularly. Supply Tower is used for this, which should be placed on the tracks.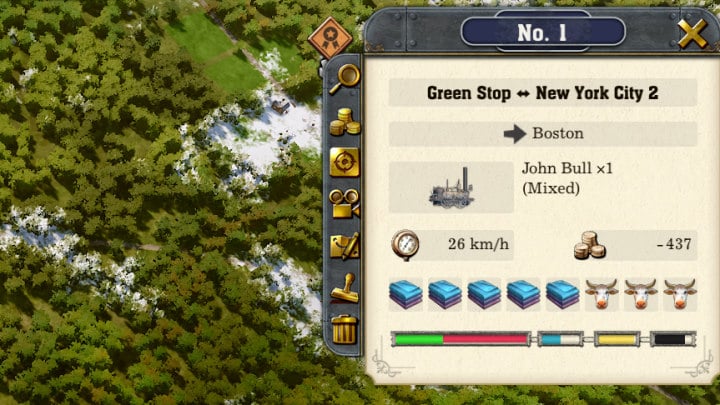 If you are playing Railway Empire 2 then I cordially invite you to read our previous news, where you will find information on machine repairs and the differences in the notation of numbers.
Railway Empire 2 made its debut on May 25 on PC (via Steam, Epic Games Store, Microsoft Store), PlayStation 4, PS5, Xbox One and Xbox Series X/S. The game also hit PC and Xbox Game Pass on the same day.