News
video games
14 September 2019, 21:36
Watch Dogs Legion With Six Times Larger Map Than AC Syndicate
Thanks to unofficial fan computations we learned the map size in Watch Dogs: Legion. It turns out that London present in the game will be six times bigger than its version available in AC: Syndicate.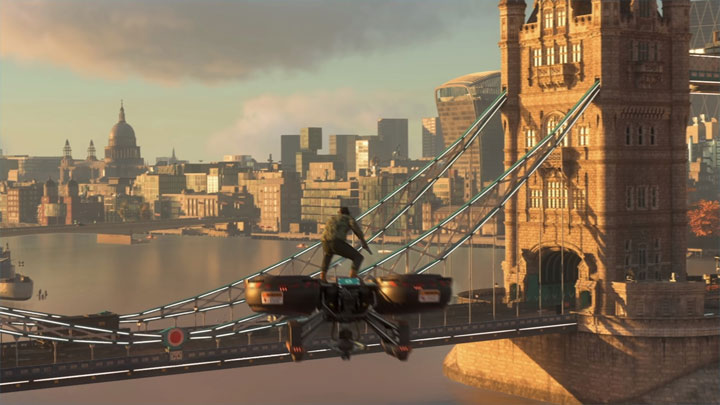 London in Watch Dogs: Legions will not disappoint in terms of size.
WATCH DOGS: LEGION IN A NUTSHELL:
Developer: Ubisoft
Publisher: Ubisoft
Genre: Action game
Platform: PC, XONE, PS4
Release date: March 6, 2020
Ubisoft has made us accustomed to big open-worlds in the games. So we were hoping the same would happen with Watch Dogs: Legion. If the calculation of fan Dimitris Galatas is correct, we will not be disappointed.
Ubisoft has been releasing pieces of the game world map, and Slicshuter merged them together. Galatas then calculated its area based on the size of St. Paul's Cathedral in London, whose length is 175 metres. Thanks to this he discovered that London in Watch Dogs: Legion will have about 24 square kilometers.
St. Paul's Cathedral also appears in Assassin's Creed: Syndicate, enabling Galatas to perform similar calculations in the game, obtaining a score of 3.7 square kilometres. This means that Watch Dogs: Legion has a six times larger map than Assassin's Creed Syndicate. In the second of these games London appeared in a strongly shrunken form, and the latest installment of the Watch Dogs series will offer a more realistic scale of the city. Ubisoft did not joke when it recently announced that it did not intend to go back to creating small games.
Galatas also compared the size of the Watch Dogs: Legion map to the previous installment of the series. London will be twice as big as Chicago from the first Watch Dogs. In the case of Watch Dogs 2 we received 22 square kilometres, but half of it was water, while in the third installment, Thames will occupy a much smaller part of the map.
Watch Dogs: Legion is coming to PC, PlayStation 4 and Xbox One. The title will also be available in Google Stadia. The release will take place on March 6, next year.