Control - Custom Expedition Settings - Longer Time Limits and Enemy Difficulty v.1.1b - Game mod - Download
The file Custom Expedition Settings - Longer Time Limits and Enemy Difficulty v.1.1b is a modification for Control, a(n) action game. Download for free.
file typeGame mod
file size24.9 KB
downloads199
(last 7 days)2
last updateWednesday, February 3, 2021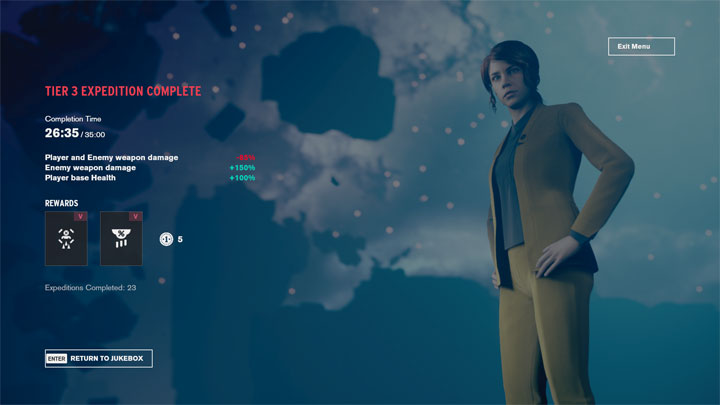 Custom Expedition Settings - Longer Time Limits and Enemy Difficulty is a mod for Control, created by reg2k.
Description:
Allows you to customize the time limit and enemy difficulty level for the Expeditions game mode.
Requires the Control Plugin Loader.
About
The timer is probably the most frustrating part of Expeditions. Once it expires, your entire Expedition is forfeit, and you would have spent 25 minutes with little-to-nothing to show for it. It can be very frustrating to spend more than 20 minutes completing all the island challenges, and then have the timer run out when you're fighting the final boss. It can also be disappointing to realize, after spending too much time on one island, that completion would be impossible in the remaining time and the only choice would be to abandon the expedition, or persist towards an inevitable failure.
For casual players:
You can use this mod to give yourself a wide time berth to complete Expeditions.
If you've given up on Expeditions due to running out of time, this mod can provide you with a gentler introduction to Expeditions without the tight time limit. Deaths only reset your progress on the current island, not the entire expedition.
If you need to, you can also lower the difficulty of enemies with this mod.
Your completion times are still recorded and shown at the end of every expedition, and you can work towards improving your times.
For seasoned players:
Try Expeditions as a survival mode instead of a timed trial!
Suggestions:
Clear out all enemies on each island instead of running away from them at the first opportunity.
Enemies drop materials and mods. The higher level they are, the better resources they drop.
For a real challenge, do the "Hiss Waves" island last, when enemies are at maximum level. Named enemies have a higher chance of dropping valuable loot.
Extra challenge: Stay alive - abandon the expedition if you die!
Installation
1. Install the prerequisite: Control Plugin Loader.
2. Extract the contents of the mod into the following folder: <Control Installation Directory>\plugins.
Last update: Wednesday, February 3, 2021
Genre: Action
File size: 24.9 KB
Files for Control