Essays
12 September 2023, 14:13
author: Przemyslaw Zamecki
Best Games for Switch - 18 Great Titles for Nintendo's Console
Mario, Zelda, Animal Crossing – Nintendo's newest console has lived to see many phenomenal games. In this article, we will present the best titles available for Switch in 2022.
Hollow Knight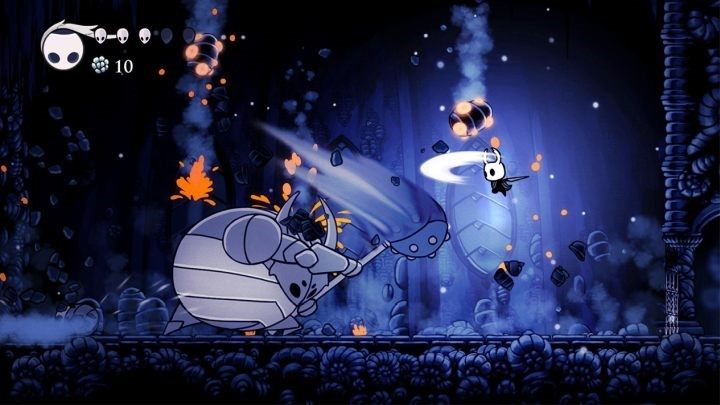 While looking for the best metroidvania, you're sure to come across Hollow Knight sooner or later.
Genre: Metroidvania
Play if: you like getting lost in underground corridors
Don't play, because: this game requires quite a bit of patience and a sheet of paper to make notes
Similar games: SteamWorld Dig 2, Cave Story, Axiom Verge, Iconoclasts, OwlBoy
HOLLOW KNIGHT
Developer: Team Cherry
Release date: June 12, 2018
You can talk about metroidvanias for hours. Especially nowadays, when this genre has become very popular among indie game developers. You can even risk the statement that the surplus of metroidvanias makes it difficult to choose which ones are worth your time, but once you start looking, you'll quickly realise that one of the most frequently mentioned top games of this genre is Hollow Knight.
The game takes place in the town of Dirtmouth, or more specifically, in the dungeons below it. Our task is to explore these huge, hollow tunnels, which hide numerous secrets and dangers. We play as the titular character who, as you progress through the game, gains new skills and gadgets, and both of them combined will allow them to venture deeper, into more and more dangerous areas. There's also plenty of NPCs and bosses, and the latter can pose a serious challenge.
The game was very warmly received, winning many industry awards and receiving positive reviews from critics. The developers didn't take their success for granted and instead keep working hard on improving the game, whilst also announcing its sequel. Hollow Knight: Silksong is set to hit the market this year. Hopefully, the sequel will rank among the top games as well.