XCOM: Enemy Unknown Expansions & DLCs
Game Expansions and DLCs available for XCOM: Enemy Unknown Video Game.
Game Expansions for XCOM: Enemy Unknown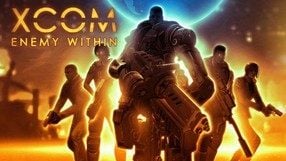 XCOM: Enemy Within
Strategy 12 November 2013
First huge add-on to the tactical strategy game, XCOM: Enemy Unknown, released in 2012. Created by the developer team at Firaxis Games, the expansion introduces many new features to basic game. One of the most important among them is a new resource – meld, a type of microscopic, robotic organisms that can modify human genotype. This allows humans to improve their body and even integrate mechanical parts into themselves. The add-on introduces a new soldier class as well – Mec Trooper - along with a special building to "produce" him, two types of aliens (Seeker and Mechtoid) and a new human organization, EXALT, trying to use alien technology to conquer the world. There are also new types of weapons, skills, and maps for multiplayer matches.

XCOM: Enemy Unknown - Slingshot
Strategy 04 December 2012
Slingshot is a Firaxis team's addition to XCOM turn-based strategy: Enemy Uknown. Enlargement introduces three new extensive missions in which we are fighting aliens in China. In the clashes he helps us with a hero named Zhang.
DLCs for XCOM: Enemy Unknown
PCX360PS3ANDiOS
Slingshot
DLC 04 December 2012
PCX360PS3ANDiOS
Elite Soldier Pack
DLC 23 October 2012