inFamous: Second Son Expansions & DLCs
Game Expansions and DLCs available for inFamous: Second Son Video Game.
Game Expansions for inFamous: Second Son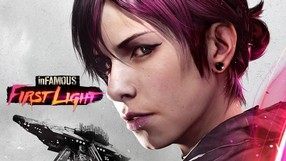 inFamous: First Light
Action 26 August 2014
A stand-alone expansion to the third installment of inFamous, a popular series that began in 2009, known as one of the famed exclusives for the new generations of PlayStation consoles. First Light, as well as all other titles in the series, was developed by Sucker Punch, a studio known from a series of games starring Sly Cooper, an adventurous raccoon. In inFamous: First Light, players assume the role of Abigail "Fetch" Walker, whom we had the opportunity to encounter in the course of the original game. The developers introduced new areas, such as Cardun Cay prison, as well as numerous enemies and a new set of powers for our heroine. When it comes to mechanics, the game plays out the same as its famed predecessor, with owners of the said title receiving access to numerous extras and bonuses.
DLCs for inFamous: Second Son
PS4
Cole's Legacy
DLC 21 March 2014
PS4
Tajemnice inFAMOUS
DLC 21 March 2014