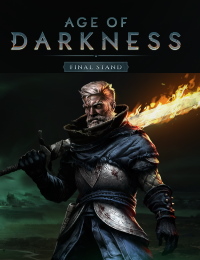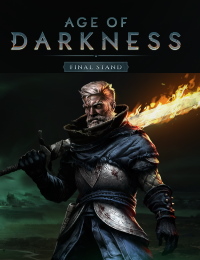 Age of Darkness: Final Stand
PC
Age of Darkness: Final Stand is a real-time strategy (RTS) game that brings to mind such titles as Age of Empires and They Are Billions. The player's task is to save the remnants of humanity from chaos.
Strategy | fantasy | RTS | survival | indie games
Age of Darkness: Final Stand

Release Date PC

early access

07October2021

2023
developer: PlaySide Studios publisher: Team17 Official website

game language: English
Age of Darkness: Final Stand is an RTS created by Australian studio PlaySide. Game takes us to the fantasy land, which is being slowly consumed by darkness. We have to fight against it to save humanity. The game is largely based on the assumptions of classic real-time strategies - we build a settlement, train units and at night we fight against hordes of enemies who want to destroy our efforts. In terms of gameplay, the game resembles such productions as They Are Billions and Age of Empires.
Plot
The game takes us to the fantasy land, which is plagued by darkness. It manifests itself in the form of fog that gradually consumes the whole world. Within it Nightmares are born, monsters with only one goal - to destroy humanity. Our task is to lead the survivors to victory over the destructive force.
Mechanics
Age of Darkness: Final Stand is, at its core, a traditional RTS with base building and unit training - it resembles games from the Age of Empires series in that. However, every night we have to fend off enemy attacks, in this aspect the title can be compared to They Are Billions.
Waves of enemies plague us every few days. They come out of the crystals scattered around the map. As time progresses, the attacks grow in strength - starting from a few dozen monsters, they can grow up to tens of thousands of enemies.
However, attackers are not our only concern. During the invasion of the forces of darkness, even the fog of war becomes hostile. It imposes negative effects on our units - they are slower and regenerate longer. The only defense against this is light.
Furthermore, on the night of an attack by the hordes of darkness, random negative effects are applied to us, or positive effects are applied to our opponents. They disappear only after the attack is stopped. However, for each of our victory we can choose one of three blessings, which remain with us until the end of the game, and they can be very useful.
In order to equalize the chances in the fight against monsters, heroes stand on our side. They gain experience, which allows them to learn new and more powerful skills. Unfortunately, evil also has its champions, for killing which we get valuable resources. They are scattered around the map and appear after dark.
The game features a day and night system. When the sun shines we are relatively safe. We can explore and build with no fear for our lives. However, as darkness falls, monsters become more aggressive and stronger. We should take this risk, because it is in the darkness that the greatest treasures are hidden.
Of course, we can not survive or explore without the brave soldiers. There are several types of them: siege machines, melee and ranged units. Each of them has its strengths and weaknesses, and our army must be balanced if we want to achieve success. Warriors can be improved in a special development tree, making them more powerful.
To train soldiers we need resources. We can collect stone, iron, wood and gold. They are useful both for recruiting troops and putting up new buildings. We also get their essence from powerful opponents, which allows us to buy special upgrades. Resources are also needed to develop new technologies. Thanks to them we can construct better buildings and defense structures.
Game modes
Age of Darkness: Final Stand is a single player game.
Technical aspects
Developers say that thanks to SwarmTech technology we can see over 70 thousand enemies on the screen at the same time.
Last updated on 07 October 2021
Game mode: single player
Expectations: 6.6 / 10 based on 48 votes.
Age restrictions Age of Darkness: Final Stand: 16+
Age of Darkness: Final Stand System requirements
Minimum:
Intel Core i5-6600 3.3 GHz / AMD FX-8350 4.0 GHz
8 GB RAM
graphic card 2 GB GeForce GTX 760 / Radeon HD 7870 or better
5 GB HDD
Windows 8.1 64-bit
Recommended:
Intel Core i5-8400 2.8 GHz / AMD Ryzen 5 1500X 3.5 GHz
8 GB RAM
graphic card 4 GB GeForce GTX 970 / Radeon R9 Fury or better
5 GB HDD
Windows 10 64-bit