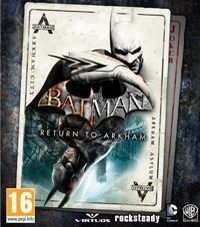 Batman: Return to Arkham for PS4 and XONE is a compilation of two remastered versions of action-adventure games from the Batman: Arkham series developed by Rocksteady. Both titles were popular among players and they received many critic awards. They also had great impact on the shape of other titles in the genre. The refreshed versions were created by Virtuos, a company which completed many similar projects, including the collection Final Fantasy X/X-2 HD Remaster and Heavy Rain for PlayStation 4.
The collection contains:
Batman: Arkham Asylum from 2009 is the first installment of the series. The action of the game takes place in Arkham mental facility where the most dangerous criminals of Gotham are locked. After capturing Joker, Batman transports him to his cell. However, once he arrives, it all proves to be part of criminalís plan and Batman must face the villains in the facility (among them Victor Zsasz, Killer Croc, Harley Quinn and Poison Ivy). The game introduced for the first time to the player a unique and very fluent melee combat system in which players are building long combos and use various gadgets.
Batman: Arkham City from 2011 improved the formula of the original game. The story of the game takes place a few months after the events shown in first game. Old Gotham slums were surrounded with a wall behind which the most dangerous criminals were put. Batman is afraid that soon the situation can get out of control and he is trying to stop the criminals before it is too late. The gameplay mechanics combine action game features with beatíem up games. During the game player can freely explore part of Gotham, complete many side quests and solve riddles.
Technical aspects
Both titles available in Batman: Return to Arkham collection for PS4 and XONE arenít just simple ports for new gaming platforms. The titles use Unreal Engine 4. The change to new engine equals many improvements to graphics. Three-dimensional models and light effects were changed. New textures were added. As for the gameplay, developers did not change too much. However, it is worth noting that Batman: Return to Arkham contains all available DLCs for both titles.
Age Rating
age requirements: 18+