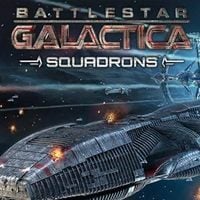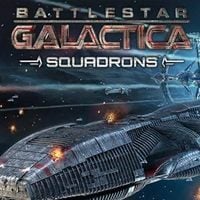 Battlestar Galactica: Squadrons
A turn-based strategy for mobile devices, developed by Ludia, based on the license of a classic SF series Battlestar Galactica. The story repeats the events seen in the TV series.
Strategy | science fiction | turn-based | TV series | card games
Battlestar Galactica: Squadrons is a mobile battle strategy enriched with card game elements, released on iOS and Android. The game uses a free to play model with microtransactions and was developed by Ludia.
Story
As the title suggests, the game is set in the universe of the Battlestar Galactica series, which started in 2003. The game follows the script of the television original. Twelve human colonies are attacked by an army of robots known as Cylons, which results in the destruction of the planets and almost the entire human fleet. A surviving handful of civilian ships join the last battle-worthy star cruiser, the title Battlestar Galactica, to try to escape and find a new home. However, Cylon forces are still following in their footsteps, and will not rest until they lead to the final extinction of humanity.
The production is intended exclusively for solo play. The devs have prepared an extensive story campaign, during which we take part in various events, complete specific missions and conduct dialogues, discovering new fragments of the story. The whole thing closely recreates the scenarios of the TV original and during the game, we have the opportunity to meet all the most important characters from the series.
Mechanics
In terms of mechanics, Battlestar Galactica: Squadrons is a light card game strategy that focuses on small-scale space battles. The game revolves around collecting spacecraft. Each model has the form of a card that is used to summon units to battle. Interstellar battles themselves, however, take place in the typical turn-based style, where all ships are displayed on the screen and we give them orders to attack specific targets.
An additional motivation to continue the game is provided by a system of ship upgrades with the use of parts of the enemy units taken from the wrecks. Balancing of units is based on simple "paper, scissors, stone" mechanics. There are five types of ships, each particularly effective against one particular type and the weak against another.
Technical aspects
Battlestar Galactica: Squadrons offers attractive visuals, the prettiest element of which are detailed, three-dimensional models of ships. The characters are presented in two dimensions, using reworked photographs of the actors from the series.
Game mode: single player
App size:
Age restrictions Battlestar Galactica: Squadrons: 12+