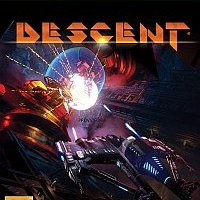 Game mode: single / multiplayer
Multiplayer mode: Internet
Descent: Underground is a new installment of a popular series of space shooters developed by Parallax Software (Descent and Descent II) and Outrage Entertainment (Descent 3). The new entry, separated by over sixteen years of hiatus, was developed by Descendent Studios, a company led by Eric Peterson, a co-author of titles such as Wing Commander IV: The Price of Freedom, Starlancer, or Star Citizen, and joined by authors known from their work on Ultima Online and different installments of Wing Commander series. The studio managed to receive the necessary financing thanks to a crowdfunding campaign at Kickstarter, where it managed to accumulate over $600,000.
Plot
The story takes us to near future – the Earth is overpopulated and subject to worldwide unrest, with powerful megacorporations taking over the power thanks to huge profits coming from space mining. The attempts to mine asteroids gave birth to a new type of entertainment for the powerful and wealthy – deadly Underground Games, in which the participants use the mining capsules to fight between each other to gain resources needed for survival. The players assume the role of such a fighter, piloting small spaceships and engaging in space battles for money and fame.
Game Modes
Aside from the multiplayer modes, which are the mainstay of the game, we are left with a satisfying singleplayer campaign. When it comes to multiplayer modes, the authors introduced adapted versions of classics and a number of unique modes, such as Capture the Asteroid (an adaptation of Capture the Flag), Capture the Ore (mining and transporting ore), Anarchy (traditional all-out combat) or Deathmatch Destruction (fighting against drones). The player can choose from a number of ships, each characterized by different specialization – we've received access to a light and agile Predator, a space tank known as Panzer, or Shaman, a repair ship.
Technical Aspects
Descent: Underground for PC, XONE and PS4 was developed based on Unreal Engine 4, which enabled the authors to introduce high-quality, detailed visuals. The game supports Oculus Rift virtual reality paraphernalia.
System requirements
Minimum:
Quad Core 2.5 GHz
4 GB RAM
graphic card 1 GB GeForce GTX 550 / Radeon HD 7950 or better
10 GB HDD
Windows 7
Recommended:
Quad Core 2.5 GHz
8 GB RAM
graphic card 2 GB GeForce GTX 750 / Radeon R9 270 or better
50 GB HDD
Windows 10