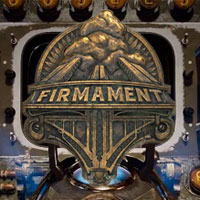 Firmament is another game created by Cyan Studio, founded in 1987. The creators of the renowned Myst series comprising a number of adventure games decided this time to work with the virtual reality technology in order to prepare a steampunk adventure. Players enter a fictional world where they travel through four different lands accompanied by a long dead mentor and a hovering mechanical companion. The production was created thanks to a crowdfunding campaign organized on Kickstarter.
Plot
The player takes on the role of a man who wakes up in an ice cave full of strange pipes and gears. Having found a message from a dead woman who was supposed to be his mentor, he tries to discover the mystery of this place. What exactly happened? What went wrong? Who is responsible for the situation he finds himself in?
Mechanics
Firmament is an immersive adventure game in which players observe the action from the first-person perspective. The gameplay is based mainly on exploring locations and solving puzzles. Also important is the gradual discovery of the story prepared by the authors.
Interestingly enough, in their struggles to cope with the challenges posed by the game, players are aided by a mechanical companion in the form of a small hovering dice / ball (depending on the chosen character). The player has the ability to communicate with it, but not with words - it is necessary to make certain gestures, which one gradually learns during the game.
The proper use of this robot plays a key role in solving many puzzles.
Game modes
Firmament offers a solo mode only.
Technical aspects
Firmament has pleasant to one's eye 3D visuals based on Unreal Engine 4. Thanks to the detailed locations, interesting artistic style and intriguing, steampunk atmosphere, the graphic design represents a high level of execution. The developers did not forget about the soundtrack, which was composed by Russell Brower (author of music for Hearthstone, StarCraft II, World of Warcraft, and Diablo III). It is worth noting that from the very beginning the game was designed for virtual reality technology. The production supports Oculus Rift and HTC Vive headgear.