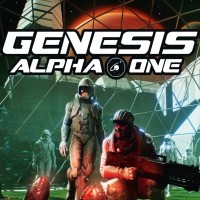 Genesis Alpha One available on PC, PS4 and XONE is an action adventure game featuring elements of strategy and roguelike mechanics. The game was developed by the German Radiation Blue – a studio established by people who had previously worked on such games as Hitman: Blood Money, Spec Ops: The Line, SpellForce 2: Shadow Wars and The Settlers series.
Plot
The game takes place in a near future, however, the creators' vision of this future is not an optimistic one. Countless wars, uncontrolled capitalism, and corruption among the authority representatives have led to depletion of most of the Earth's resources and irreversible environment pollution. Human extinction seems just like a matter of time, thus a group of still functioning governments, together with for influential corporations activate the Genesis program.
This initiative involves launching a spaceship on a mission to find a new home for the humankind. Players assume the role of a captain of one such vessel. During the campaign one quickly discovers that people responsible for this program did not reveal the entire truth.
Mechanics
In Genesis Alpha One for PC, PS4 and XONE players observe the action from the eyes of the main protagonist. The galaxy is procedurally generated, thus with each playthrough, it offers new challenges. The areas of space you explore are filled with hostile aliens, so you often have to repel their attacks on your ship. The game also offers you the ability to explore the surface of different planets.
Combat system resembles classic FPS games, however, it introduces elaborate strategy elements. Players have to locate and gather resources, upgrade their ship and command the crew. Moreover, it is crucial to clone your proteges (this proves useful when one of them dies). When doing so, you can modify their DNA and add some elements taken from ancient races allowing you to create entirely new life forms.
Technical aspects
Genesis Alpa One offers attractive 3D visuals based on Unreal Engine 4.
Similar games:
PEGI Rating
System requirements
PC / Windows
Recommended: Intel Core i5-4590 3.3 GHz / AMD FX-8350 4.0 GHz, 8 GB RAM, graphic card 4 GB GeForce GTX 970 / Radeon R9 390 or better, Windows 10 64-bit
Minimum: Intel Core i3-4130 3.4 GHz / AMD FX-4350 4.2 GHz, 4 GB RAM, graphic card 2 GB GeForce GTX 660 / Radeon HD 7950 or better, Windows 7 64-bit