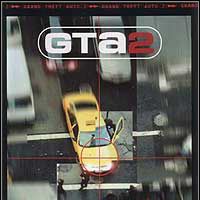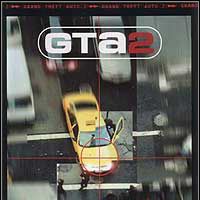 Grand Theft Auto 2
GTA 2
A sequel to the very popular, and rather controversial, game from DMA Design (currently Rockstar North), which offered a taste of criminal lifestyle, letting you commit progressively more brazen and bloody acts of violence.
Action | vehicles | Gangster | sandbox | top-down | 2.5 D | shooters
The sequel to the extremely popular and at the same time controversial game by DMA Design, in which we had the opportunity to taste the life of a criminal, performing increasingly daring and bloody acts of violence. GTA 2 improves the basic assumptions and brings a number of new solutions that make the gameplay more attractive.
Plot
The main protagonist of GTA 2 is Claude Speed, a small-time criminal who arrives in a powerful metropolis with hopes of making a fortune and establishing himself as one of the most influential gangsters. In pursuit of his goal, he skillfully manoeuvres his way through the criminal world, earning the respect of rival gang members and taking on increasingly responsible assignments. The game's plot is only a pretext for demolition and all kinds of illegal activities, although in comparison to the original it brings the universe created by the developers and the characters inhabiting it a little closer.
Mechanics
The developers have not abandoned the basic rules of the warmly welcomed first instalment of the series. Once again, the camera presents the action from a top-down view, and players find themselves in a large city, where they have full freedom in performing missions and earning money. This time there is one gigantic metropolis at the hero's disposal, which was divided into three areas. In each of them different gangs operate, constantly fighting with each other for influence and having characteristics and favourite types of activity. The only organisation functioning everywhere is the Zaibatsu corporation, which only seemingly functions honestly and legally.
As the protagonist progresses in the game, he gains not only money but also respect points. They define Claude's relationships with each gang. A high level of trust is necessary in order for him to be selected for better paid and more difficult jobs. In GTA2, the authors divided missions into three types, symbolised by phone boxes in different colours, and additionally prepared several side challenges, which provide access to hidden vehicles, new weapons or bonus cash. Missions range from simple jobs such as being a messenger or driver to theft and assassinations.
Traditionally, the player receives several weapons at his disposal to fight his enemies. The arsenal has been expanded with double pistols, a shotgun, molotov cocktails and an electric shock gun, among others. Additionally, some vehicles have been equipped with weapons, such as mines, a machine gun and a flame thrower with an unlimited supply of fuel. About one hundred and twenty cars are available in the game, varying in terms of maximum speed, acceleration and endurance. All of these help Claude to complete his missions, but also to fight the police or gang members with whom he is not on friendly terms.
Technical aspects
Grand Theft Auto 2 takes advantage of the technology available at launch by presenting the game world in 3D and using lighting effects and close-ups to make the game more dynamic. The entire game is styled in a specific way, combining retro 1960s motifs with sci-fi movie-like weapon and car designs. To promote the game, a short film was made about the main character, played by actor Scott Maslen. Eleven radio stations are available in GTA 2, playing tracks composed especially for the title from a wide range of musical genres, from pop and electronic music to classic rock and rap.
Last updated on 25 March 2021
Game mode: single player
User score: 7,6 / 10 based on 2989 votes.
PEGI rating Grand Theft Auto 2
Grand Theft Auto 2 System requirements
Recommended:
Pentium II 233MHz
64MB RAM