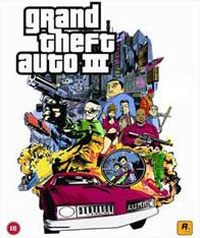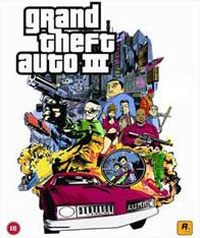 Grand Theft Auto III
Another installment in the controversial series of action games started in 1997. Grand Theft Auto III was developed by the authors of the original game, the DMA Design studio, this time under the wings of Rockstar.
Action | TPP | vehicles | Gangster | sandbox | TPS | reeditions/remasters/remakes
Grand Theft Auto III
Release Date
Grand Theft Auto III is the third installment in the controversial series of action games in which the player becomes a criminal without principles and rules. This technologically amazing game was developed by the Scottish studio Rockstar North and was released on PS2, PC and the first XBOX console.
Story
Liberty City, a virtual adaptation of New York. The main protagonist is Claude Speed, he never utters a word. This young man, similarly to all other protagonists of GTA series, wishes of becoming a boss of the criminal underworld. He has few important objectives to complete, such as having his revenge on his ex-girlfriend, Catalina, who almost sent him to prison.
Gameplay
Claude will receive his missions from a dozen of charismatic bosses with whom the player is acquainted during the amazing cutscenes. The quests are often amusing (like collecting porn magazines scattered across the street) and filled with references to other action games. For example, during the "Two-faced Tanner" mission the developers are making fun of the two-dimensional policeman, the protagonist of Driver 2.
The story of GTA III is non-linear. This means that majority of missions (especially the side missions) can be completed in any order the player wants. It is even possible to ignore the missions for some time and instead focus on free exploration of Liberty City. The player has access to three islands that are connected to each other (Portland, Staunton Island and Shoreside Vale. The distance between them can be covered by using bridges and tunnels or by using few types of motorboats (Claude is not able to swim).
Dozens of unlicensed vehicles are very important in the game. They can be divided into delivery, family and sport cars. Some of them have special attributes (like the unique, bulletproof Patriot – in-game version of Humvee), other are very rare (like the Ice cream truck). All vehicles have more than dozen of damage zones and very intuitive controls. They also offer the possibility to shoot while driving (drive-by) and to listen to eight radio stations (most of the music tracks were recorded exclusively for Grand Theft Auto III). Each of the vehicles can be stored in garages located near Claude's hideouts in various districts.
In order to fight the opponents player can use weapons such as a handgun, submachine gun, shotgun, Molotov's cocktails and sniper rifle. The latter can be useful for example for eliminating policemen riding down a rope from a helicopter. GTA III has also a strong sexual context – during the game one can for example have sex with prostitutes and work for the owner of a nigh club, taking care of his female employees.
The construction and size of GTA III was one class better and bigger than in most of the action games available in 2002. This was reflected by great reviews and sales of the game. Rockstar North's game inspired many other companies to create similar games (for example True Crime and Saint's Row). Later these games were called "GTA clones".
Technical aspects
What makes GTA III different from previous installments of the series are the fully three-dimensional graphics generated by the RenderWare engine. In 2001 the graphics of the game set the standards for the whole industry by showing a living city that is rich in details and AI-controlled inhabitants.
Last updated on 14 March 2016
Game mode: single player
User score: 8,1 / 10 based on 9995 votes.
PEGI rating Grand Theft Auto III
Grand Theft Auto III System requirements
Recommended:
Pentium II 400MHz
64MB RAM
graphic card