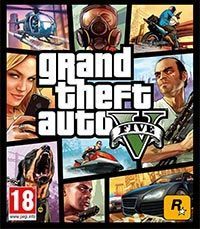 Grand Theft Auto V is another installment in one of the most popular series in the history of video games. The game was released initially on Xbox 360 and PlayStation 3 in 2013. The PC version is an expanded and improved edition of the original title. It offers full support for high screen resolutions. Textures and three-dimensional models are in higher quality. The game world feels more alive thanks to increased number of cars in traffic and pedestrians. Lighting system, car damages and weather also received improvements. There are also new missions, weapons, vehicles and options for characters customization. The developer didn't forget about the players who bought GTA V for PlayStation 3 or Xbox 360 – they can transfer their characters from GTA Online on console to the PC version.
Grand Theft Auto V features three completely different characters: Michael – a former bank robber from the East Coast, now being under the witness protection program; Trevor – retired military pilot suffering from mental disorders; and Franklin – young man from the ghetto, collecting cars from debtors of a local Armenian dealer. Each of them represents other social background. The storyline and gameplay allows players to switch between those three characters at any time – you can quickly explore the world of Los Santos and always be in the center of the action.
The main metropolis of Grand Theft Auto V – Los Santos – and its diverse surroundings (mountains, deserts, cliffs, fields, valleys, military bases and even the coastal zone of the city with submarine canyons and coral reefs) are the largest world ever created by the Rockstar North developers. It is the outcome of countless expeditions mixed with statistical data on the California population. Therefore, almost each element of the city seems very natural – from the behavior patterns of individual pedestrians, to the most popular vehicles found on the streets and traffic management system.
The exploration of the world presented in Grand Theft Auto V is spiced with mini-games (tennis, yoga, golf etc.), but the core are the missions during which you control one, two or even three characters. Usually, your missions focus on robbing a bank or a shop, however there are also random missions triggered in various locations. Some of them relate to the characters' friends or members of their families, thus exploring their personal stories. Michael has to solve family problems with his wife Amanda and children (Tracy and Jimmy), Trevor wanders around with Ron, who sees conspiracy theories everywhere, while Franklin has to deal with his crazy friends, e.g. Lamar.
The creators offer you numerous vehicles – from bicycles to water scooters, airplanes and helicopters. The car driving mechanism has been improved and now resembles these found in racing games. Again, the game features Ammu-Nation weapon chain store. Moreover, melee skills have become more important. The developers decided to return to the mechanism that modifies character stats, i.e. use certain skills (e.g. shooting or driving vehicles) to master them. You can collect money and spend it on equipment, clothes, cars, yachts and even real estate. Stock market is an interesting improvement of the economic system – this system is even featured in several story missions.
When it comes to the audiovisuals, the game offers a dynamic soundtrack perfectly adapting to the pace of on-screen events. The graphics are based on a modified version of the engine created by Rockstar Games, called RAGE (Rockstar Advanced Game Engine). It enables rendering large areas of the game world and features advanced system of shading and lighting simulation.
GTA V offers extensive online mode called GTA Online. In multiplayer mode, players create their characters and level them up by completing missions or minor challenges – gang wars, racing or parachuting. 16 people can take part in a single game session playing in one world. Players can fight with each other, organize attacks or take various tasks (these events are for 2-10 people).
Similar games:
PEGI Rating
System requirements
PC / Windows
Recommended: Intel Core i5-3470 3.2 GHz/AMD X8 FX-8350 4.0 GHz, 8 GB RAM, graphic card 2 GB Geforce GTX 660 GT/Radeon HD 7870 or better, 65 GB HDD, Windows 7(SP1)/8/8.1 64-bit
Minimum: Intel Core 2 Quad Q6600 2.4 GHz/AMD Phenom 9850 2.5 GHz, 4 GB RAM, graphic card 1 GB GeForce 9800 GT/Radeon HD 4870 or better, 65 GB HDD, Windows Vista/7(SP1)/8/8.1 64-bit